Augmented Reality: A New Frontier for Asset Location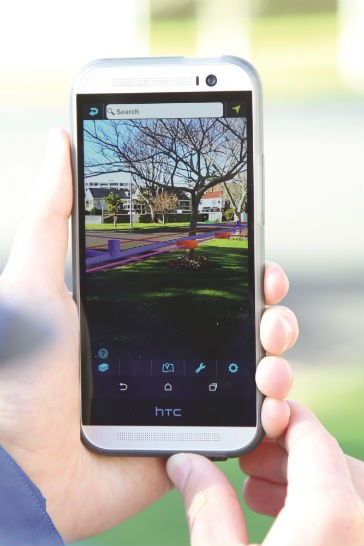 As more and more utility infrastructure is placed underground, the accurate location and identification of underground assets becomes ever more vital to prevent accidental excavation. Augview, an augmented reality solution that uses GIS data to visualize buried assets, has the potential to revolutionize the way users view and manage location data.
Most excavation workers will be well aware of the results of unintentionally contacting buried assets. Accidental excavation frequently causes severe asset damage, resulting in substantial costs, project delays and service outages. Contact with certain assets, such as high voltage cables and high pressure gas mains, can also damage surrounding property and cause injuries, or even fatalities.
Yet incidents of accidental excavation are still disturbingly common. This is often because the records used by excavators are inaccurate, incomplete or out-of-date. Essentially, this indicates that the current methods of recording and managing underground asset data can still be improved upon.
The future of utility location
New technologies suggest exciting possibilities for the future of the utility locating field. Augview provides a number of significant benefits to utility locators and surveyors and could replace or complement various existing technologies and practices as a result.
Used with survey-grade GPS sensors, Augview collates information from multiple geographic data sources and displays asset data as maps, text, or as a 3D visualization transposed over the live video feed of a mobile device like a tablet or smart phone.
This allows workers to "see" the location of buried assets in their environment, rather than relying on manual records that may or may not be current. The data is not limited to geographic coordinates of assets; it also provides valuable attributes data such as who owns any given asset and its status. Augview can connect with multiple different GIS servers simultaneously and users can choose sources from which to view data at any one time.
Augview is completely non-destructive and can complement existing asset locating techniques such as ground penetrating radar (GPR), sonar technology, radio detection and electromagnetic induction.
Options can also be enabled to allow verified users to update outdated or inaccurate asset data in the field and instantly record the locations of newly buried assets. This can decrease delays associated with recording asset data and making it available to other contractors who might be completing works in the area, minimizing the time assets lie unprotected.
Enhancing safety in the field
Safety should be a key priority for everyone involved in excavation, utility location and surveying.
Here Augview also provides a number of innovative opportunities to improve upon current practices. In addition to visualizing the position of buried assets using the most up to date information from verified sources, it also enables real-time safety updates and warnings. When new hazards or faults arise and are recorded, they become immediately visible to users.
This provides obvious benefits compared to a scenario where workers receive hazard information prior to a job and are required to remember it when they are busy working on a project, or worse receiving it at some stage after they have already begun working.
Augview can also provide a range of customizable options for organizations to ensure that workers receive and register critical warnings about potentially dangerous assets in the field when and where they need them.
For instance, an electricity infrastructure owner wanted to make their dangerous assets more visible to workers. Augview altered the program to make the companies' high voltage power cables flash and glow in the augmented reality view, so they would immediately grab the users attention.
While the electricity distributor had labelled areas on paper plans and pdf's with disclaimers and warnings where their asset data was incomplete, they were concerned that no-one would read them in Augview and excavators would assume it was safe to dig. A warning triangle was created to appear on the screen whenever Augview was opened in these areas. This warning requires acknowledgment before it will disappear and allow the user to continue using the program.
Using familiar devices
Mobile solutions are already becoming increasingly valuable for asset management in the utility sector and many field workers already carry at least one mobile device with them.
Augview can save time and reduce operational overhead costs by enabling workers to view data from multiple sources and efficiently complete important processes that once required extensive paperwork, all through one interface. Furthermore, Augview software is device agnostic and can be used on the familiar mobile devices that many utility workers already carry with them every day.
In a case where no reliable internet connection is available, Augview can also be used in offline mode.
Using a familiar device provides various benefits, especially when it comes to training new or inexperienced staff in the software. Furthermore, Augview operates with a consistent look across different devices and operating systems, easing the transition if the hardware is replaced or updated.
In a future where employees regularly change jobs and older more experienced staff move towards retirement, an intuitive GIS solution for utility location will become increasingly vital.
Enhanced security
While asset data must be accessible to those planning and completing work, this data can also be commercially sensitive and security risks may result if it falls into the hands of unauthorized individuals.
Augview does not make a copy of asset data in order to display it. Instead it collates live up-to-date asset information for the desired area from a variety of GIS server sources that it has permission to access. The data itself remains safely on the asset owners' servers.
Unlike paper plans or other documents, if the device is lost or stolen, access to the data can be easily and remotely disabled. Access to Augview and its various features can also be granted and revoked at any time for any device over the web-based management portal.
Moving forward in the field
The utility location sector is ready for a shake-up and it may be that we will soon see augmented reality become an everyday part of utility location, surveying and excavation professionals' work. Coupled with existing surveying methods technologies, Augview represents a powerful tool for utility location, ushering the field into a safer, more efficient future.
Related Articles
As one of the latest models in the R2-Series excavator lineup, the Bobcat® E88 delivers durability, performance and quality for more productivity. Technically speaking, it's a compact machine, but it brings big performance with its redesigned engine and optimized lift performance, plus undercarriage and counterweight improvements. All these enhancements make this excavator one of the highest-performing models in its size class. With impressive over-the-side lift capacity, you can dig with greater confidence over the side of the machine. Put it to the test against similar models from other manufacturers. You'll see that the E88 can outwork the competition.