Internal Bypass the Key to Manhole Rehab Project
New technique employed to re-concrete a collection of manholes in Esquimalt, B.C.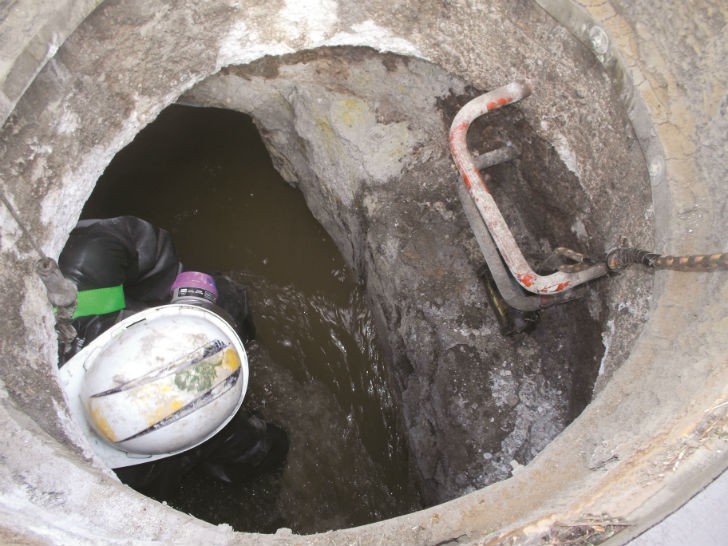 When Bob Taylor saw the state of a collection of manholes in Esquimalt, a suburb of Victoria, British Columbia, he knew that rehabilitating the worn-out concrete structures would require some clever thinking.
The co-director of Mar-Tech Underground Services, headquartered in Langley, B.C. could see that the 11 manholes situated just outside the Esquimalt Naval Base had become structurally unsound – making the job unsuitable for chemical grouting.
"They had some really badly attacked manholes from hydrogen sulphide. They were in really poor shape," says Taylor. "You could literally take a manhole lid hook and put it through the wall."
Cast-in-place technique
Mar-Tech's solution was to re-concrete each manhole using a cast-in-place technique suitable for manholes and culverts. The relatively-new technique has been employed in the U.S. for a few years but Mar-Tech is only the second company to license the product in Canada.
"A spin-casting head is lowered and raised repeatedly by a winch on a crane arm," says Taylor, comparing the process to something like shotcreting. "You can put on an inch, an inch-and-a-half, twoinches, whatever your designs require for structural manhole through a multitude of passes. It's a really good application for manholes that need replacement, especially due to hydrogen sulphide attack."
The job in Esquimalt, however, involved another challenge besides getting the manhole walls back into operating condition. Mar-Tech's client, Victoria's Capital Regional District (CRD), was concerned that hydro-blasting the manholes would cause debris to end up in their pump station. Knowing that setting up a road-side bypass for the 36-inch trunk line would be a costly endeavour – maybe three to four times the cost to repair each manhole – Mar-Tech had another plan.
"We came up with an internal bypass system, so we could bypass the flow through the pipe itself, but still isolating the manhole," says Taylor. "That way we could clean the manhole, use one of our vac trucks to remove the material, and once the manhole was all cleared, we spincast the new concrete."
It's that kind of ingenuity and flexibility that has taken the company far since Taylor and business partner Bob Kennedy, both former long-time employees with Insituform, just down the road in Surrey, formed the company in 1998.
When Insituform decided to focus on their core business of pipelining, Taylor and Kennedy saw an opportunity to create a multi-faceted underground services company. The strategy has worked. Starting off with just one CCTV inspection unit, Mar-Tech has grown to a fleet of over 30 vehicles and a payroll of more than 40 employees.
Among its key services, Mar-Tech identifies cleaning, hydro-excavation, inspection, rehabilitation and traffic control.
Taylor said the firm does a lot of lateral and mainline probe (LAMP) inspections, particularly service laterals. "We've been LAMPing laterals since 2000, but it's gotten stronger and stronger over the years," he said. "We're now running four trucks on LAMP work."
Chemical grouting and mainline lining are also strong for Mar-Tech.
Looking ahead
The technique for rehabilitating the manholes in Esquimalt worked well, and if Mar-Tech has its way, the company will get a crack at six more manholes, five of which are located on Department of Defense property. Those manholes are in even worse shape than the ones they've already done, according to Taylor.
"They're a little deeper, so they'll be a bit more expensive, and they are in rough shape because they're close to a pump station," he said. The CRD is expected to put that manhole contract out to tender in the coming year. When it does, Taylor said Mar-Tech is planning to bid on it.
Related Articles
As one of the latest models in the R2-Series excavator lineup, the Bobcat® E88 delivers durability, performance and quality for more productivity. Technically speaking, it's a compact machine, but it brings big performance with its redesigned engine and optimized lift performance, plus undercarriage and counterweight improvements. All these enhancements make this excavator one of the highest-performing models in its size class. With impressive over-the-side lift capacity, you can dig with greater confidence over the side of the machine. Put it to the test against similar models from other manufacturers. You'll see that the E88 can outwork the competition.