Rock drilling equipment used in tough directional drill project
Trenchless Drilling Services deploys Vermeer D36x50DR to conquer challenging soil conditions in B.C.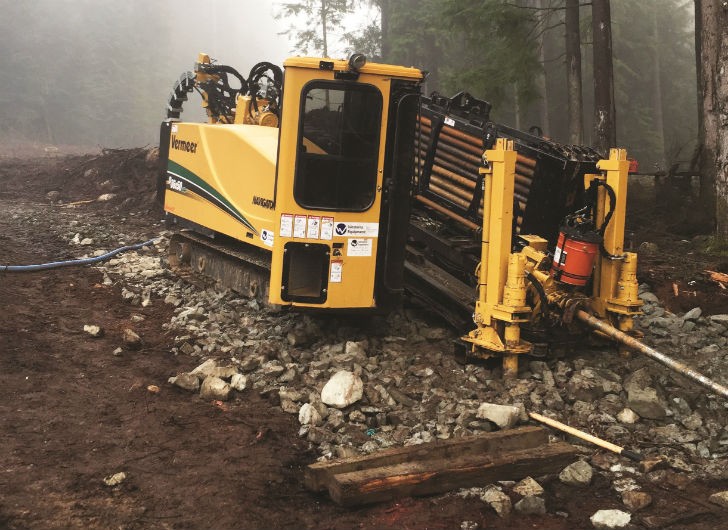 Established in 1993, Trenchless Drilling Services Inc. provides horizontal directional drilling to the underground utility market. Covering all of British Columbia, Trenchless has completed distant projects such as one in Fort St. John, to solid bedrock drilling on Pender Island. Recently, the company has been utilizing equipment and technology to directional-drill difficult formations, such as highly dense glacial till, bedrock and boulders. Metro Vancouver and the Fraser Valley have a broad range of formations, from the soft, compressible soils of Richmond to the solid bedrock in North Vancouver, all located within a few kilometres of each other.
In early November, Trenchless started a directional drill project in Coquitlam, a suburb of Vancouver. The project involved directional drilling for the prime contractor, Pedre Contractors Ltd. of Langley, for a proposed sanitary sewer line. The scope of the work is to directional-drill 1 x 94 m of 300-mm HDPE DR17 and 1 x 110 m of 300-mm HDPE DR17 sanitary sewer at 6 percent and 9 percent grades. To complete the project, Trenchless deployed a 2013 Vermeer D36x50DR Series II NAVIGATOR horizontal directional drill using a 6-inch TCI Tricone drill head and a 2013 Digitrak F5 locating system. The job is expected to be completed in late January, 2015.
Challenging soil conditions
Eric Dykman, general manager of Trenchless Drilling Services, said the main challenge of the project is the formation that exists underground. Located on Burke Mountain, the formation consists of highly-dense glacial till mixed with boulders up to 1,200-mm diameter.
"Conventional means of directional drilling through this formation would present a very low success rate whether it be unacceptable grade or refusal on the boulders," he said. "We decided to deploy the Vermeer D36x50DR for its capability and proven track record for being able to handle such formations. The Vermeer D36x50DR and the 6-inch TCI Tricone drill head are designed to cut through the rocks and dense formation rather than a deviation that would occur with conventional directional drilling. This allowed us to achieve grades within 0.1 percent of planned grade and alignment tolerances within millimetres."
According to Dykman, one of the major benefits of this equipment is the mechanically- driven tricone.
"Throughout the pilot drill we were able to keep flow with 5 gallons per minute. We were able to keep mud requirements to a minimum and disposal costs to a minimum as well," said Dykman. "Once the pilot drill is completed we will be upsizing to 250 mm and 400 mm using TCI roller cone reamers to cut the boulders that the pilot drill either went through or partially cut through. We opted for these rock reamers as it will apply the same accuracy as the pilot drill did. With conventional reamers the likelihood of deviation or inability to cut the rocks were too great and would be inefficient."
As Dykman explains it, conventional soil reamers are what Trenchless typically uses for the majority of their directional drill installations, but are not set up to cut rock. At the Coquitlam job, the company went with a 250-mm Tungsten Carbide Insert (TCI) 3 x roller cone and a 400-mm TCI 3 x roller cone supplied by Horizontal Technology, Inc. of Nisku, Alberta.
Tight working environment
Apart from the boulders that required specialized rock reaming equipment, Dykman said another concern was how close the one bore passes by an existing home and underground facilities.
"The first directional drill install is within a tight right-of-way that has an existing 300-mm concrete storm sewer on one side that has 0.6 m horizontal separation and a 1.0 m vertical separation. The other side is a house foundation that is 0.6 m horizontal separation with approximately 1.0 m vertical separation," said Dykman.
To handle the resident's concerns over vibrations from drilling alongside the house, the home is being seismically monitored to ensure the drilling does not cause any adverse structural effects.
PROJECT AT A GLANCE:
Project completed by: Trenchless Drilling Services Inc. Prime contractor: Pedre Contractors Ltd. Location: Coquitlam, BC Equipment used: Vermeer D36x50DR and TCI roller cone reamers, supplied by Horizontal Technology, Inc.
Related Articles
As one of the latest models in the R2-Series excavator lineup, the Bobcat® E88 delivers durability, performance and quality for more productivity. Technically speaking, it's a compact machine, but it brings big performance with its redesigned engine and optimized lift performance, plus undercarriage and counterweight improvements. All these enhancements make this excavator one of the highest-performing models in its size class. With impressive over-the-side lift capacity, you can dig with greater confidence over the side of the machine. Put it to the test against similar models from other manufacturers. You'll see that the E88 can outwork the competition.