Mclaughlin Introduces VX30-300 Vacuum Excavator with Big Features and Small Footprint
Unit has patented rear hydraulic door, reverse pressure flow, water heater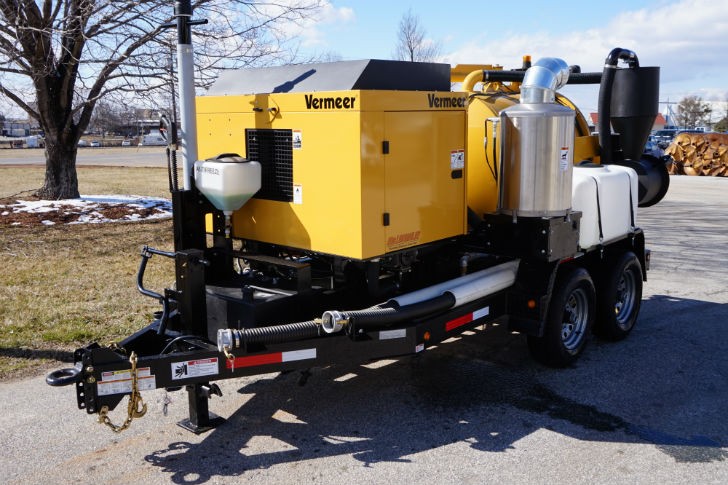 McLaughlin has introduced the VX30-300, a vacuum excavator that is compact in size but with features typically found only on larger machines.
The VX30-300 features a cam-over rear hydraulic door, a cyclonic filtration system, optional reverse flow for pressure offloading of materials and the ability to add a water heater to help when working in frozen ground conditions.
All of this comes in a machine with a 9,999-pound gross vehicle weight rating, alleviating the need for a CDL for drivers transporting the vacuum excavator. That makes it an ideal unit for rental stores and their customers.
Utility companies and contractors also will benefit from the portable, compact and versatile VX30-300 vacuum excavator for their potholing jobs and fluid management on horizontal directional drilling projects.
The VX30-300 has a 300-gallon (1,135.6 L) spoil tank and a 31-horsepower (23.1 kW) Yanmar diesel engine.
"The VX30-300 has many of the same features that our larger vacuum excavators offer, but in a smaller package," McLaughlin Vice President Jeff Wage said.
The VX30-300 has a hydraulic door, which makes dumping and cleaning the spoils tank faster and more convenient. It also has a patented cam-over locking system that provides a 360-degree positive seal, even under reverse pressure, without additional clamping requirements. It also has no in-tank parts, so all maintenance is external.
Unlike a manual door, the hydraulic door allows for reverse pressure to clear hose clogs simply by changing the valve position to reverse the airflow. It also lets operators work faster by pressure offloading spoils and being able to strategically direct fluids rather than just dumping them into a big puddle.
The VX30-300 also has room for a water heater, or hot box. Such a feature benefits crews working in cold weather and digging in frozen ground, or in soil conditions where grease is present, like at a car dealership or car wash.
The unit's 3-stage cyclonic filtration system allows for wet and dry vacuum excavation while prolonging filter life and keeping maintenance costs low. The VX30-300 also comes with a tandem axle chassis, which aids in stability and axle life.