Tar Star Helps Overcome Drilling Challenges, Minimizes Waste
Drilling fluid additive effectively drills through heavy bitumen sand in residential area in Fort McMur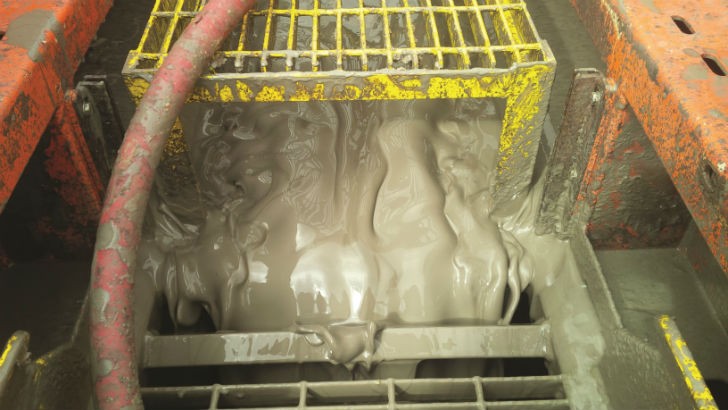 In the fall of 2014, Direct Horizontal Drilling started an HDD project involving the installation of a 750-mm (30-inch) pipeline under a deep valley next to a residential area in Fort McMurray, Alberta. The project involved installing a water and sewer line under Goat Head Creek, after drilling a pilot hole and reaming to 1,067 mm (42 inches) through reactive clay and shale, as well as rich oil sand and limestone.
Controlling reactive clay and clay shale is no easy task in this area and requires specialty additives to maintain the mud properties. The biggest challenge would be efficiently drilling through the rich oil sand and continuing to recycle as much drilling fluid as possible. As one can imagine, the disposal costs associated with oily mud and cuttings are much higher than drilling fluids/cuttings not contaminated with oil. Oil or bitumen sand can be very sticky and deposit on the shaker screens, causing blinding and excess mud disposal.
Environmentally-friendly fluids
Most drilling fluids are environmentally safe. The method of disposal determines their acceptance on certain drilling projects. Fluids can be land sprayed or mix/ bury/covered. In some areas, they need to be solidified with binding agents so they can be disposed of at landfill or special waste sites.
Drilling fluid companies are required to report drilling fluid additive toxicity and owners maintain compliance by testing whole mud during the drilling processes.
Minimizing waste during drilling
A drilling fluid additive, Tar Star, was used for this project to ensure the bitumen cuttings did not adhere to the drilling and recycling equipment. Tar Star encourages the bitumen to remain with the cutting and ensures the resulting cuttings do not stick to downhole tooling and shaker screens. Unlike solvents that wash the oil from the cuttings and can erode the hole, Tar Star ensures the recycled drilling fluid is virtually tar-free and can be recycled as much as possible.
Drilling fluids primer
Drilling fluids are very important in maintaining an open bore hole and reducing hole problems associated with troublesome geological conditions. Drilling fluids are integral in cleaning cuttings from the borehole, suspending cuttings during static periods, maintaining borehole integrity, lubricating and effectively transferring the energy of the mud pump to the cuttings at the bit face.
Categories of drilling fluids include pH control additives, viscosifiers, clay control additives, fluid loss control additives, lubricants and lost circulation materials.
PH control additives are normally included in most high yield and one-sack bentonite products but are often available separately on site to reduce the effects of higher water hardness. Soda ash is the most common pH control additive.
Bentonite products (viscosifiers) are typically untreated (API), high yield bentonite and one-sack products. Bentonite is most always used as the base to any fluid system. In unconsolidated soils, contractors implement both fluid loss control additives that bind the soils (Pac/ Trol polymers) and viscosity modifiers (xanthan/MMO/MMS) that maintain good hole cleaning. Clay control additives like low viscosity PHPA polymers and liquid clay stabilizers ensure formation clay and shale do not swell and cause torque and annular pressure increases. Drill detergent and thinners/dispersants are more temporary solutions to reactive clay and shale problems. A selection of lost circulation additives is also available to heal seepage and full losses of circulation.
Project outcome
The reactive Clearwater shale formation was encountered shortly after the 311-mm (12-¼-inch) pilot bit left the 40 metres (131 feet) of 1,498 mm (59-inch) casing. The drilling fluid was very capable of controlling the swelling potential of the clay shale. Within a hundred metres, oily cuttings were evident on the shaker screens and were starting to "blind" the screens. Crews immediately applied the recommended dose rates for Tar Star and alleviated the problem. The pilot hole continued through oil sand and some limestone before coming back up into the Clearwater shale again.
The ream passes continued efficiently and the project was completed ahead of schedule with minimal pull forces on the pipeline. Waste volumes were also minimized, as fluid could be recycled without blinding the shaker screens. The owner chose to use a waste absorbent material (Star Sorb) to turn slop cuttings into "stackable" solids. Stackable oil laden solids are much cheaper to dispose of than excess liquid waste or runny solids and the owner realized these cost savings.
Drilling fluid programs
Owners are starting to request engineered drilling fluid programs (EDFP) and contractors who follow them are noticing the benefits they had not seen historically with just high-yield bentonite and water. Drilling fluid product technologies that were borrowed from the oil and gas sector are now being developed specifically for the challenges associated with HDD.
This is definitely an advantage, as contractors are required to follow the plans they have submitted. Owners can also appreciate the benefits that outweigh the costs when using EDFP's and the additives that have been recommended. Longer and larger diameter crossings are being completed with minimal hole problems and greatly reduced pull back forces.
Most HDD projects can be completed effectively with high-yield bentonite and few additives, but in the proper concentration and formulations. We do not have high temperatures and pressures like the oil and gas drilling sector so why use expensive additives that tolerate these conditions?