Dig Safe Month is a Timely Reminder to Call Before You Dig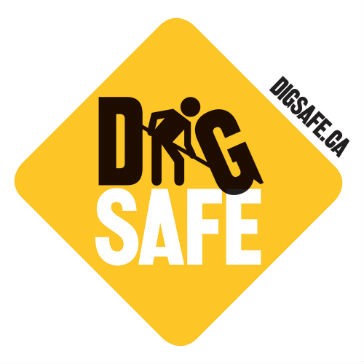 April 1 marks the official start of Dig Safe Month. The Ontario Regional Common Ground Alliance (ORCGA) and its stakeholders have designated April as the annual Dig Safe Month in Ontario. This month is dedicated to improving safety and reducing damages to underground facilities by raising awareness of safe digging practices through local events across the province.
The 2015 Dig Safe Provincial Kick-Off's will take place on April 1, 2015 from 10:00am until 11:00am at ALL 13 of ORCGA Geographical Council (GC) Areas across the Province. These include: Barrie, Chatham, Kingston, London, Mississauga, Oshawa, Ottawa, Owen Sound, Sarnia, Niagara, Sudbury, Waterloo and Thunder Bay. There will be a formal Dig Safe Kick-Off announcement by the Mayors at 10:00am in support of April as Dig Safe Month in their respective municipalities. Where possible, this will be followed by the raising of the Dig Safe Flag for the month of April. The event will be hosted by the ORCGA and its geographical council volunteers. Following the presentations, a reception will be held to say thanks to the host city and the many volunteers from the damage prevention industry.
"Dig Safe Month is designed to naturally coincide with the unofficial start of spring digging season. It will serve as a reminder to homeowners and contractors that they need to call before they start digging," said ORCGA President Jim Douglas.
The ORCGA and its members, including Ontario One Call, are encouraging homeowners and contractors to call for locates before they dig to prevent injuries, property damage and inconvenient outages. Throughout April, ORCGA members will be leading local campaigns across the province to spread awareness about safe digging practices and "Call Before You Dig". Ensuring the safety of those who work or live in the vicinity of underground facilities and protecting vital services is everyone's responsibility.
Visit www.digsafe.ca for more information on Dig Safe Month, "Call Before You Dig", safety guidelines and how to get involved.