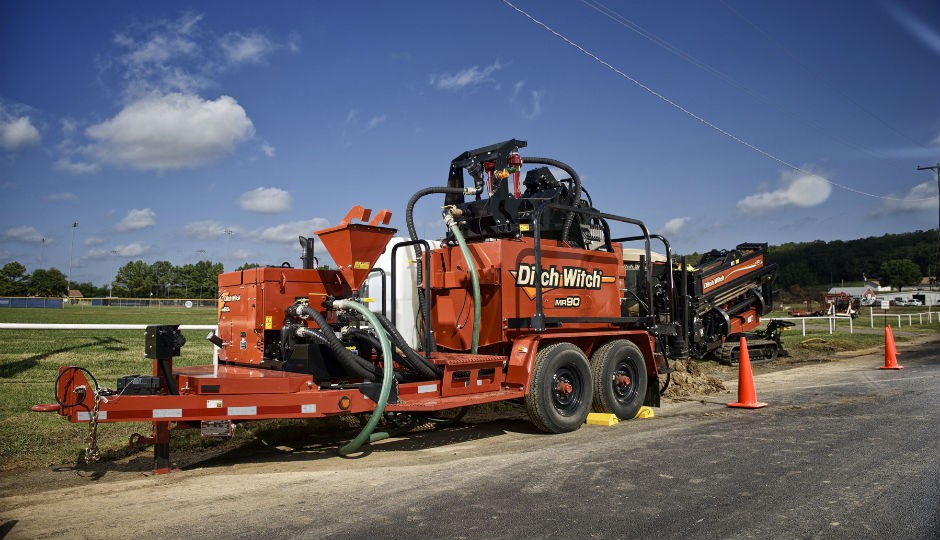 A new mud recycler introduced at UCT has a number of features that will save drilling contractors money in the long run, since the mud coming out of the hole can be recycled instead of disposed of.
The MR90 mud recycler was on display at Ditch Witch's booth during the Underground Construction Technology Trade Show, Jan. 27-29, in Houston, TX.
Designed for the mid-sized drill market (20,000 to 60,000 pounds), the MR90 is a self-contained unit that can mix and recycle drilling fluid or "mud", as well as handle spoils. By reclaiming and reusing drilling mud, operators can save on disposal and transport costs. According to Ditch Witch, the machine is the only mud recycler currently on the market that can be transported full of fluids to the jobsite.
While many mid-size drill contractors forego recycling mud because they're not pumping the kind of volumes that would justify a mud recycler, in terms of disposal savings, that is beginning to change, according to Seth Matthesen, senior product manager for HDD and drill pipe at Ditch Witch.
During a tour of the MR90 at UCT, Matthesen told CUI that increasing dump fees, combined with a decreasing number of dump sites, is making mud disposal more costly and inconvenient for contractors. Combine those factors with more frequent droughts and water shortages throughout parts of the United States and Australia, and the need for a good mud recycler begins to make sense.
"It's not just the dump fees, it's the driver, the truck, the liability of that truck going up and down the road, those are all costs, and in many cases downtime as well," says Matthesen, adding that with a mud recycler, the vacuum truck normally used for mud extraction and disposal can be deployed for more productive tasks such as potholing.
Mud mixing is expensive too. Matthesen estimates it costs the contractor between $80 and $100 for every 1,000 gallons he mixes. For a driller who goes through 4,000 gallons of drilling fluid per day, that's $400 daily. Matthesen suggests that drillers using the mud recycler test their mud every hour. When the mud reaches 9.5 pounds per gallon, they need to dispose it and start over.
Otherwise, the mud gets too heavy which can cause fracturing and potential wear on the drill's mud system. "The key component of the MR90 is its ability to clean mud returns to less than one quarter-percent sand content, this is key to help protect the smaller-class drills from potential mud pump damage," he said.
The MR90 is equipped with a 110-gallon (416-L) clean tank and a 340-gallon (1287-L) first-pass mud tank. Each tank has a 3-inch (7.6-cm) connection at the drain for vacuuming out mud, to minimize jobsite cleanup. The unit also includes a 300-gallon (1136-L) fresh water tank to provide extra drilling fluid capacity and support for equipment cleanup, along with a high-pressure wash pump.
Matthesen said the additional water supply is a key advantage over competing mud recyclers, which have to operate relying on additional water resources (frac tank/ water truck). "The additional water is for cleanup, cleaning your screens, and additional downhole fluid loss. For instance, when drilling/backreaming a 10-inch hole, you're going to leave a minimum of a gallon per foot in the hole, so you're going to leave some fluid downhole," he says. "Understanding that, is why we have additional water supply on the machine."
According to Ditch Witch, the MR90 offers the fastest setup on the market and can be operated from a single point, eliminating the need to move the unit. For mud filtering, the MR90 features a two-screen system with six 2.5-inch (6.35-cm) hydrocyclones that clean mud for reuse. "The reason we use six 2.5-inch, is we're trying to get the spoils as clean as possible, so we don't prematurely damage the mud pump," says Matthesen, adding that different screens are offered for varying soil conditions - sand, rock, clay, etc.
The screens are designed to be easier to change and service than those of competing systems, and the shaker frame can be hydraulically adjusted to level the screens, which enhances productivity. Other systems rely on levelling the trailer to level the screens.
The 25-hp (18.7-kW) MR90 is equipped with a hydraulic pit pump that provides more than enough mud for recycling. The optional remote control can be used to turn on/off the pit pump and other mud pump functions Another exclusive MR90 feature is an automatic pit pump control that is designed to prevent overflow, which frees the operator from constant supervision of the unit.
Matthesen said that using hydraulics, versus genset power offered by competing models, confers another advantage to the operator.
"It gives you the ability to vary your hydraulics - such as your shaker speed. You can utilize it to self-level on the fly as you encounter changing soil conditions. You also gain the ability to utilize a hydraulic trailer jack stand, which gives you a quick setup."
The unit plus its optional, 14,000-GVWR trailer may be pulled by some three-quarter-ton trucks. The trailer features tool storage that holds all the components needed for operation.