VIPER ADV
PIPE INSPECTION CAMERA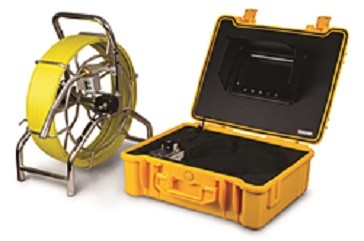 The VIPER ADV Pipe Inspection Camera is an advanced viewing device that meets various remote visual inspection requirements.
The VIPER ADV Camera is an inspection tool that can travel past multiple corners and bends within pipes without impairing image quality. The wide PVC-coated fibreglass insertion probe with a long spring joint at the end makes the whole process of inserting the probe in the pipe and maneuvering past obstacles to the area of interest much easier. Increased durability and pushability of the probes expand the area of camera's application allowing to perform any type of inspection from residential check-ups to inspecting city mainlines and industrial pipelines.
The camera comes with a 23-mm (1-inch) camera head equipped with a high-definition CCD chip and protected by a Sapphire lens against harsh and aggressive environments. Integrated highly intense LED lights illumination allows to examine the problem area in detail. Light intensity can be adjusted by using control buttons on the control unit or a remote control.
Company info
Related products