Inversion liner extends life of Quebec City watermain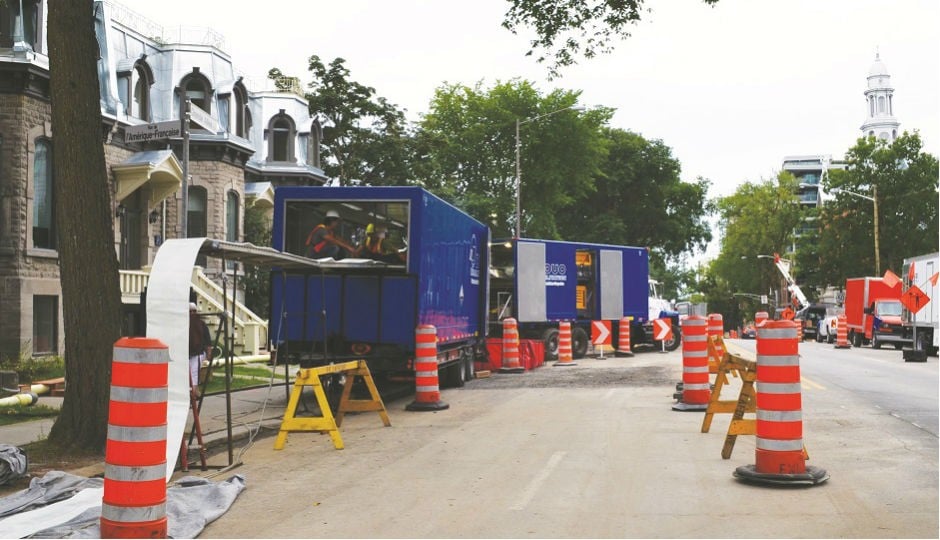 Ah, Quebec City in the summer. The charming capital of la belle province is known for its stunning French style architecture, and as one of the last remaining fortified walled cities, was named a UNESCO World Heritage Site in 1985.
The city in summertime is thronging with visitors. Its narrow, twisting streets share space with cars, trucks, pedestrians, and even horse-drawn carriages that often carry couples hoping to recreate a romantic vision of New France.
So when the city decided to replace an aging watermain at the edge of Old Quebec that was felt to be at risk of a catastrophic leak, the solution needed to be one that caused the least amount of disruption to residents, visitors and businesses.
Working with Roche Ltd. Consulting Group, an engineering firm, the city specified a cured-in-place pipe (CIPP) lining for rehabilitating two sections of the 60-year-old cast iron pipe with lead joints: a 220-metre section of 300-mm pipe, and 250 metres of 450-mm pipe.
Benefits of trenchless CIPP technology
Apart from the main advantage of not having to excavate a busy downtown street during the height of summer, the other benefits of a trenchless CIPP technology included cutting the expected duration of construction in half and avoiding digging in areas with buried utilities.
"When RS BlueLine is installed, its uniform expansion results in a consistent product that produces a smooth finish and tight fit against the host pipe. This maximizes hydraulic performance and eliminates any potential for infiltration between the liner and host pipe." Cedric Bergeron, project manager, DUO Rehabilitation.
The CIPP portion of the $11-million job went to DUO Rehabilitation, a Quebec company that specializes in CIPP installations utilizing RS BlueLine, an NSF/ANSI- 61 certified CIPP technology provided by RS Technik out of Cary, North Carolina.
RS BlueLine is a composite lining system consisting of a reinforced liner designed for direct inversion using water or air pressure, and MaxPox formulated epoxy resin. The liner consists of concentric layers of needled polyester felt and fibreglass manufactured to a specific diameter and length and coated with an impermeable plastic barrier. A computer-controlled, mobile saturation (wet-out) unit conforming to ASTM F2994 is used to vacuum-impregnate the liner with the epoxy resin.
In preparation for CIPP lining, water supply is bypassed and temporary service is provided to affected residents and businesses, and access pits are provided at each point of liner installation and terminating ends. A section of the existing pipe is removed to permit proper installation of the CIPP. The pipe is then cleaned to remove all debris and deposits using high-pressure water jetting, and dewatered as necessary using foam pigs or similar devices in preparation for the liner installation.
The liner is continuously fed into the mobile saturation unit and injected with epoxy resin while under vacuum. The resin-saturated liner then passes through electrically-driven calibration rollers at a specific gap set by the on-board computer system. Next, the wet-out liner is immersed into a covered ice bath prior to installation. Once the liner is ready to be installed, it is loaded into an inversion drum on a continuous spool, and the end is inverted and secured to an exit flange. The drum is then pressurized with air from an integrated compressor, which progressively inverts the liner into the existing pipe at a controlled rate. Once the liner is fully inverted inside the host pipe, steam is introduced to elevate the temperature of the air stream and cure the liner in place. The lined pipe is then pressure tested to ensure system integrity. Lastly, service connections are reinstated robotically, and the system is reconnected and returned to service.
Multiple advantages of RS BlueLine
According to Cedric Bergeron, DUO's project manager on the $500,000 CIPP contract, one of the main advantages of RS BlueLine is that it is designed for uniform, radial expansion which results in a tight fit between the liner and the host pipe.
"The felt and fibreglass are joined together as concentric layers that uniformly expand during installation. This is different than competing inversion liner products which have individual felt and fibreglass layers and rely on an overlap of the fibreglass to achieve the desired strength and pressure ratings," he explained. "The position and orientation of glass layers for CIPP technologies utilizing the overlap design are difficult to control during installation, especially on water lines which typically do not have a straight alignment. When RS BlueLine is installed, its uniform expansion results in a consistent product that produces a smooth finish and tight fit against the host pipe. This maximizes hydraulic performance and eliminates any potential for infiltration between the liner and host pipe."
Another advantage: With RS BlueLine, the mobile wet-out unit is fully automated. "The mixing ratio of the MaxPox 8D epoxy resin and the MaxPox 480D hardener is computer controlled," he said. "It is not mixed by hand which is subject to human error. We have a perfect ratio all the time, and all aspects of the wet-out operation are constantly monitored and logged by the on-board computer system for quality control and record-keeping purposes."
Indeed, Bergeron pointed to resin temperature as one of the variables that can turn a smooth installation into a mad scramble in a hurry.
"The resin can begin to cure (kick) before the installation is complete and obviously you don't want that," he said. "This can lead to challenges during the installation process, and in the worst case scenario the liner may need to be pulled out of the pipe. On hot days that is one thing you need to watch out for."
Bergeron added that it's the small details that make the difference in liner installation work, especially when working in a congested downtown area where the margin of error is smaller and mistakes could mean having to dig up the street later. "You need to have a dedicated crew that knows what they're doing."
DUO completed the installation of the RS BlueLine in two weeks, around half the time it would have taken to open cut and replace the same stretch of pipe.
Related Articles
As one of the latest models in the R2-Series excavator lineup, the Bobcat® E88 delivers durability, performance and quality for more productivity. Technically speaking, it's a compact machine, but it brings big performance with its redesigned engine and optimized lift performance, plus undercarriage and counterweight improvements. All these enhancements make this excavator one of the highest-performing models in its size class. With impressive over-the-side lift capacity, you can dig with greater confidence over the side of the machine. Put it to the test against similar models from other manufacturers. You'll see that the E88 can outwork the competition.