Leak detection technology for oil industry adapted to municipal sector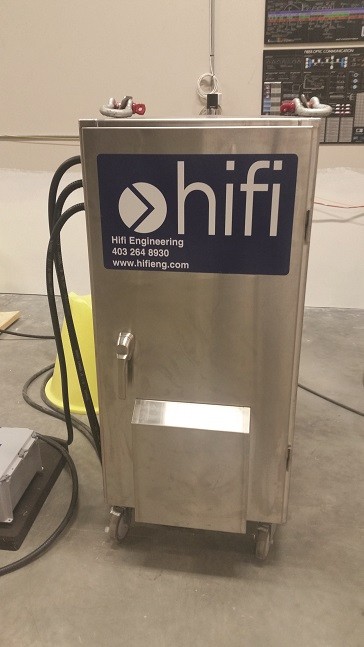 Finding a pinhole leak in a pipeline is like searching for a needle in a haystack. To use another analogy, municipalities that have problems with leaking pipes are tempting "death by a thousand cuts," or more appropriately, are "losing water by a thousand drips."
Using conventional leak detection technology to monitor and respond to deteriorating pipe conditions is appropriate for finding relatively large leaks in watermains, but tiny, pinhole-sized pipe perforations often pass undetected. That may be changing however thanks to new technology from Hifi Engineering Inc. The Calgary-based company is known for its fibre-optic sensing technology used to monitor the flow of gas and fluids in the oil industry. But in March, Hifi announced a new product, HDS, which stands for high-fidelity dynamic sensing, directed at the prevention of leaks in oil and gas pipelines, as well as municipal water mains and gas distribution lines.
Hifi was founded 10 years ago by John Hull, a former field engineer with oilfield services giant Schlumberger. Seizing an opportunity to resolve slow leaks and low flow rates in well bores, Hull turned to fibre optics. Commonly known as the thin, transparent wires that carry voice data and high-speed Internet, fibre optic cables can also be used as a sensor to precisely measure parameters such as acoustic energy, temperature, strain and vibration.
In oil wells, leaks can occur while a new well is being cemented, during the drilling process, through production and even during well closure. By installing a fibre-optic line along a pipeline or wellbore, Hifi has an effective sensor for applications such as leak detection and prevention, asset security and precise fluid flow measurements.
In an interview with CUI, Hull said that developing a similar technology for water and gas distribution pipelines was a natural fit for the firm.
"There is a demand for it and they go very well together. If you can find leaks downhole, you can find them in pipelines," he said.
Real-time, preventative pipeline leak detection
As Hifi describes it, HDS "includes proprietary, sensing-based fibre optic cables as well as optical hardware and software for permanent deployment along a pipeline, for continuous monitoring in real time. The patented software algorithms are designed to correlate acoustic, temperature and vibration/strain data in real-time to discern operating conditions such as excessive strain, thermal events, and security intrusions, which if left unaddressed, could evolve into a leak in the pipeline. The HDS system can also detect extremely low flow and pinhole-sized leaks, with the ability to alarm and notify the pipeline operator in seconds."
HDS was recently tested by Enbridge at its Leak Detection Experimental Research (ELDER) test apparatus in Edmonton. The pipeline company emphasized the safety aspects of the technology. "We believe that Hifi has the potential to help the energy industry future and our goal of 100-percent safety," said Rocco Vita, Enbridge's director, emerging technology, in a press release issued by Hifi announcing the launch of HDS.
To help develop and market the product, Hifi received $2 million from Sustainability Technology Development Canada (SDTC), a federal initiative currently helping to market 269 clean technology projects valued at $2.5 billion. The money will fund a third of HDS' $6 million development cost.
Hull compared the high-fidelity nature of HDS to listening to a song on the radio versus a digital media player, or the difference in the picture of a low definition versus a high-definition television. The variation in fidelity affects the size of the leak the equipment is able to detect.
"You can find a water leak with lower fidelity because they're usually quite a bit bigger, but to find a pinhole leak (or a small, low-flow seep) you need to be able to understand the leak signatures from the background acoustics," Hull explained. "You need what's called fidelity."
An industry first in innovation
Competing fibre optic sensors are available for leak detection, but what makes the HDS technology different is its high fidelity. "The problem [with the other sensors] is there are a lot of false positives, there are mistakes, it sounds scratchy, it sounds noisy. So we do numerous things to improve the fidelity," says Hull.
The fibre that is placed in the pipeline is connected to an "interrogator", essentially a computer that processes information in real-time and sends it out to a cloud-based software dashboard. Through the dashboard, Hifi's clients are sent alarms, and they can also access analytics and reports. The information is accessible via text messages, email, web applications and dedicated software.
"There are all types of data delivery methods that we use depending on what the client wants and sometimes it will go straight into their monitoring system," Hull said.
When comparing other fluid and gas leak detection methods, Hull noted that research has shown that the best way to prevent leaks is through continuous monitoring, made possible through fibre optics, versus sensors placed throughout the pipeline.
HDS (high-fidelity dynamic sensing) includes proprietary, sensing-based fibre optic cables as well as optical hardware and software for permanent deployment along a pipeline, for continuous monitoring in real time.
"You need something that's completely dedicated 24/7, every centimetre along the pipeline, that's how we're going to both prevent and detect leaks properly," says Hull, emphasizing that with HDS, it's possible to monitor kilometres of pipeline with one system.
"So that gives it commercial viability, because otherwise, can you imagine how expensive monitoring every centimetre 24/7 would be with electronic sensors? It's just not possible. That's why fibre now presents new opportunities."
Related Articles
As one of the latest models in the R2-Series excavator lineup, the Bobcat® E88 delivers durability, performance and quality for more productivity. Technically speaking, it's a compact machine, but it brings big performance with its redesigned engine and optimized lift performance, plus undercarriage and counterweight improvements. All these enhancements make this excavator one of the highest-performing models in its size class. With impressive over-the-side lift capacity, you can dig with greater confidence over the side of the machine. Put it to the test against similar models from other manufacturers. You'll see that the E88 can outwork the competition.