Utility contractor has large toolbox for different ground conditions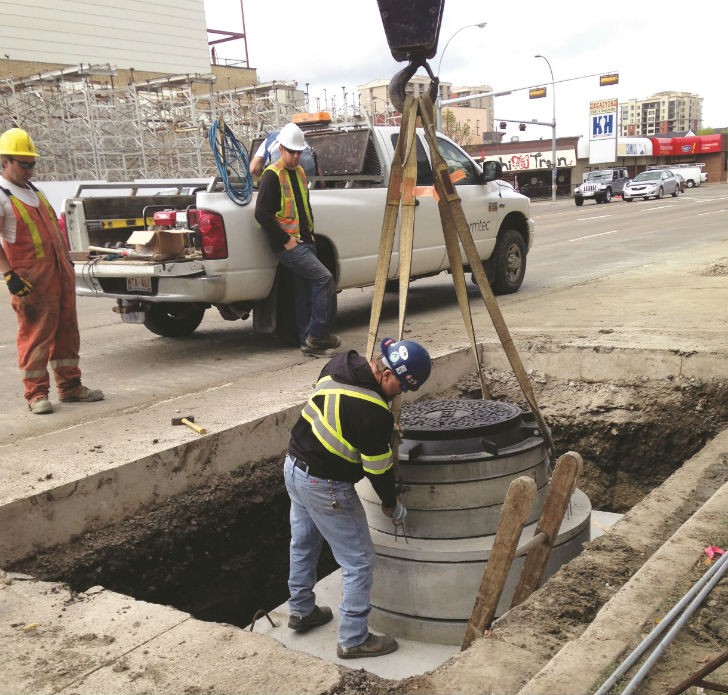 The diversity of Canadian geography requires utility contractors working above the 49th parallel to have a wide range of tools and techniques at their disposal when it comes to handling surface and underground utility work.
For example the Canadian Shield, one of the oldest geological zones on earth, hosts Precambrian igneous and metamorphic rocks that make for tough horizontal directional drilling. The shield, which cuts across central and eastern Canada as well as the northern part of the U.S. mid-west, is also dotted with lakes and bogs that can prove equally challenging for utility construction and installation. Hard-rock geological conditions are similarly prevalent in British Columbia, while the vast tracks of boreal forest in northern Alberta contain muskegs that can sink an excavator in a hurry.
Extensive range of expertise
To deal with the different geography and geology, a utility contractor needs to bring a range of expertise to each job, and that is where Valard, one of the largest utility contractors in Canada, has staked ground as a leader in the provision of engineering, procurement, construction and maintenance services. The Edmonton-based company claims expertise in distribution, transmission, substations, renewable energy, energized services, telecommunications, four-party services and civil work.
"We excel in everything hydro-related, from the large transmission builds, to building and commissioning substations, rural fibre-feeding networks. We also build joint-use distribution facilities, which are the small 25 to 75-kV lines you see going into the rural communities," said Ken Spangler, Valard's general manager, telecommunications, in a recent interview with CUI.
Telecom specialist
"We do a lot of the copper cable extensions and the fibre-optic links into the major cities as well as growing rural areas," added Spangler. He noted that Valard's telecommunications unit has grown rapidly, starting with just eight employees four years ago, to the current staff of 140 technicians based throughout the unit's Alberta offices in Calgary, Edmonton, Grande Prairie and Fort McMurray, as well as in British Columbia.
The company with its various divisions has over 3,200 employees with operations in every Canadian province.
On the underground side, Valard does overbuild work for the big telecoms – Bell, Telus, Rogers and Shaw – in major Canadian cities. Recent jobs included infrastructure upgrades to the University of Alberta and the new Rogers arena and entertainment complex in Edmonton.
"The urban builds involve, for example, busting up the concrete in front of the University of Alberta and putting a six- or eight- or 12-way conduit system, about a metre, a metre-and-a-half deep, and then concrete-encasing it so that we have an overbuild capability to upgrade the copper and fibre systems throughout that area of the city as well as downtown," said Spangler.
"The new arena that's going up in Edmonton, there's an entire build dedicated to facilitating that arena in the Oliver area, and we're heavily involved in that. It's all going underground."
The concrete-encased duct banks are done in areas where space is tight, such as downtown cores or new subdivisions. The utilities are stacked and encased in concrete so that they are protected against frost and safe to drive upon, even if buried just a few inches under a road.
A concrete saw is used to cut three-foot sections of asphalt and concrete, that are then lifted with an excavator. Next, the utilities are placed into the trench and bedded with sand and a new concrete pour is placed.
In installing fibre-optic cables, one interesting method used by underground utility firms is microtrenching. Here a MicroTrencher – essentially a tractor driven concrete saw – opens up a quarterinch slot 12 inches deep, into which the ducts containing fibre-optics are fed. The MicroTrencher contains a vacuum so that all the concrete dust is contained, making it a clean process. Because the trench is so narrow, it causes little traffic disruption. Microtrenching works well in temperate cities, but success can be hampered in colder climates where the frost layer extends deeper than a foot. Valard recently did two microtrenching projects, one to feed fibre to a hospital in Vancouver, and the other at the University of Victoria.
Another large underground project for Valard is the Anthony Henday ring road, which involves relocating all the Telus and Shaw utilities in the northeastern quadrant of Edmonton. There, Valard excavated existing utilities and then directional- drilled underneath a major highway, Highway 16, to relocate the utilities to accommodate the road expansion. Phase one is now complete, and the next phase will relocate utilities in the northern-most outskirts of the city.
Moving out of the cities, Valard does directional drilling in rural areas where the project might require boring under rivers, creeks and in mountainous terrain.
Telecom specialists like Valard typically do not have to drill as deep as water utility contractors, but mountainous areas like northwestern B.C. can still be challenging, according to Spangler. In that case, they will bring in specialized equipment such as rock drills, rock sawing wheels and mud motors to complement their horizontal directional drills such as the Vermeer D60x90, or the DW100x120, which can complete up to two-kilometre drives.
Spangler said often it's soft ground rather than hard-rock conditions that can throw up the most difficult roadblocks in an underground utility project.
"We're completing a project right now in Conklin, Alberta for an oil company, and it's a winter-only job because the whole area is muskeg. If we take a 40,000- or a 50,000-pound Plough Cat or dozer in that area in the spring, that Cat will vanish. The ground will basically eat it up."
Valard uses vibratory plows to link up rural communities with copper or fibreoptic cables. The company has a contract with Telus, for instance, to plow between 400 to 500 kilometres a year, thus providing broadband Internet to small towns in Western Canada. The fibre is usually buried about a metre deep. When a new road is put in, Valard will relocate existing utilities by plowing a new trench.
Valard also does chain trenching, where tracked or rubber-tired trenchers are used to dig a trench to stack the conduits. "That format is typically used in newer subdivisions where the utility right of way is starting to shrink because you can really place that trench in a strategic manner away from the other utilities and it's an easy clean-up," said Spangler. "You go about a metre to a metre-and-half deep. It can open up a six-foot-wide trench and you can probably do 300 or 400 metres in a day easily."
Canada's diverse ground conditions and the amount of space available for utility installation, which generally varies according to how urbanized the area is, are two factors that greatly influence a utility contractor like Valard's choice of equipment and techniques for surface and underground utility construction.
A third factor is the number and types of other utilities and pipelines that a contractor has to be concerned about when conducting trenching, horizontal directional drilling or concrete-encased duct bank work.
Rising to the challenge
Spangler said in contending with more built-up downtowns, urban sprawl and industrial development in rural areas, utility contractors are being constantly challenged to work in an increasingly "crowded" underground environment.
"What you're seeing more and more of, all the time, is the diminishing space that is out there for underground utilities," he said, giving the example of directional drilling underneath a live fibre-optic line, or working over and under active oil and gas pipelines with the permission of the pipeline owners. "It's getting very crowded out there, and you have to have people that have the expertise to really maneuver that equipment."