Contractor locates 430 kilometres of pipeline for LNG pipe-twinning project in northern B.C.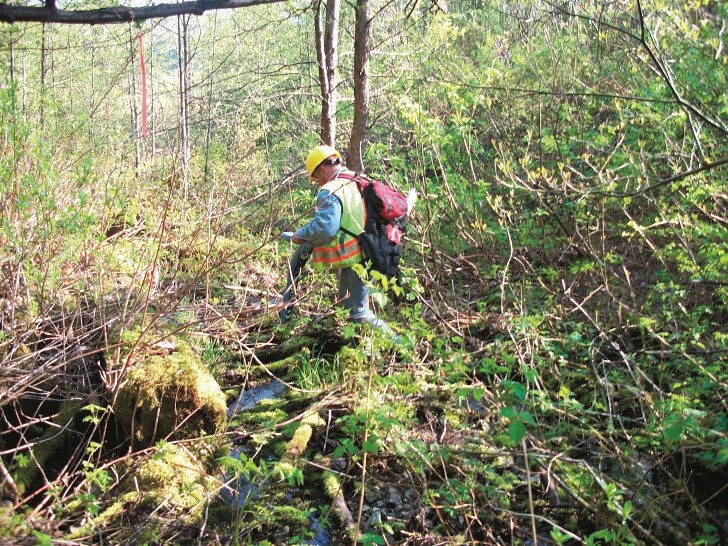 The construction of liquefied natural gas terminals in northern British Columbia – a central plank in the B.C. Liberal government's economic plan – are on hold pending final investment decisions from the major players as they mull changes to federal and provincial tax regimes on LNG projects and await a turnaround in LNG prices that have fallen in lock-step with the price of crude oil.
However, that hasn't stopped pipeline companies from proceeding with infrastructure projects that will feed into the new LNG plants if and when they are approved. One such project is the Pacific Trail Pipeline, a 480-kilometre line that would deliver natural gas from Summit Lake, B.C. to a new LNG facility at Bish Cove near Kitimat. The $3.7-billion LNG project, proposed by Chevron and Australia's Woodside Petroleum, would carry natural gas extracted from the Liard and Horn River basins in northeastern British Columbia, and liquefy it before it is put on specialized tankers for export to Asia. One B.C. company that has already benefitted from the proposed pipeline, which twins an existing pipeline by Pacific Northern Gas, is CMH Underground Utilities Ltd. With offices in Prince George and Terrace, the 12-person enterprise specializes in damage prevention, installation and maintenance of underground utilities, with a work area extending from Clinton, B.C. in the south to the Yukon border in the north.
CMH is also involved in gas leak detection, and will often work with industrial customers like sawmills who need their gas lines and other utilities identified, along with any water or gas leaks, when planning mill expansions.
Locating methods used
For Pacific Trail, CMH was contracted to locate and stake the existing Pacific Northern Gas pipeline and identify areas where the right of way would have to be expanded to accommodate the new pipeline, to be installed parallel to the existing one.
The company started at the mid-point of the pipeline and had two crews move in opposite directions, using all-terrain vehicles and Radio Detection 8000 locators to find the pipeline and pound stakes in every 30 metres. CMH used a combination of two methods for the survey. In the first method, the receiver has a mode called CPS, which detects the signal produced from the cathodic protection on the pipeline. The strength varied and in some areas, was not detectable. The second method was to induce a signal on the line with the transmitter, either by connecting to the "fink" (a post with wire leads attached to the pipe) when available, or by placing the transmitter on the ground above the pipe and broadcasting the signal to the pipe. The CPS method was preferred, as the crew would not have to backtrack to move the transmitter forward.
Unusual challenges faced
Pat Hubbard, operations manager with CMH, identified an unusual challenge that cropped up as the crews began staking. "Part of it was the logistics of, believe it or not, not having enough wooden stakes," said Hubbard, explaining that CMH managed to find a supplier in Prince George that would ship the stakes out to the crews, who were not always easy to find considering the remoteness of the jobsite, which was only accessible via logging roads.
"Logistically it came down to how do you carry that many when you've only got two quads, a pickup and a trailer?" she said. "They'd have a local trucking company drop them off in their warehouse at strategic locations and then our guys would pick them up by the pallet." In all about 12,000 stakes were used.
The terrain was also a challenge, with the line moving through dense bush, logging cut blocks and even a swamp. CMH had earlier located and staked 60K of the pipeline, so they knew what they were getting into. Luckily the weather didn't present added obstacles. The company had a short window to work with, while creek water levels were low and the ground was soft for staking; CMH completed the job in three months from mid-August to early November.
As the LNG story in B.C. continues to unfold, it is apparent that CMH Underground Utilities will continue to be a part of it. Hubbard said the company has been providing line locates for the geotechnical investigation of the proposed Coastal GasLink Pipeline Project, a pipeline that would move natural gas 670 kilometres from Dawson Creek to Kitimat.
Looking ahead
CMH has also submitted sweep proposals for the Prince Rupert Gas Transmission Project – a proposal by TransCanada Corporation and Progress Energy Canada to move gas 900 kilometres from Hudson's Hope to Lelu Island near the port of Prince Rupert – and is involved in ongoing line locates for proposed LNG sites around Kitimat, according to Hubbard. CMH Underground Utilities Ltd.