Lincoln introduces new engine-driven pipe welder/generator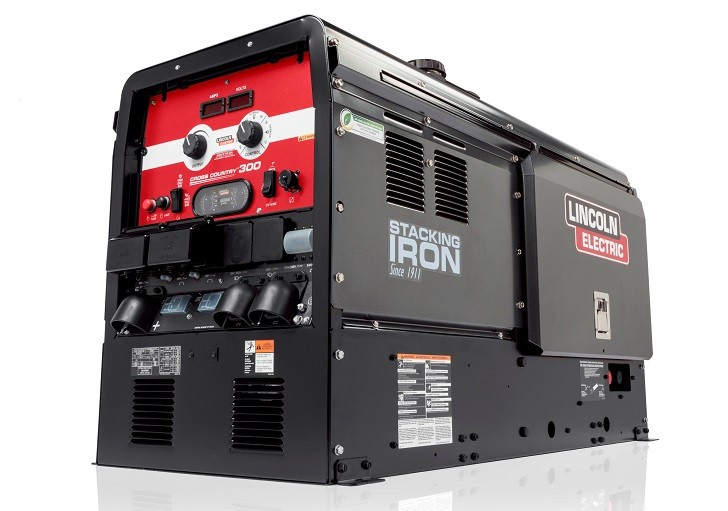 The new Cross Country 300 engine-driven welder from Lincoln Electric is specifically designed for the cross country or process piping welding operator who demands an excellent arc, small dimensions and low weight, easy-to-use controls and substantial AC generator power.
It's All About the Arc – Tuned by pipeline welders for pipeline welders, the Cross Country 300 is excellent for root, fill and cap passes and designed for cellulosic or low hydrogen stick electrodes.
The Size is Right – The small footprint saves space on the rig truck bed, while its low height allows for clear visibility through the truck's back window.
Easy to Use – Dual current controls are designed for pipeline welding and the few, simple controls improve simplicity and reliability. Dual sliding doors make it easy to access the engine for routine maintenance, even when on the truck.
Flexible – The Cross Country 300 supports DC stick, wire and TIG processes, easily connects to Lincoln Electric wire feeders and includes a powerful AC generator to power grinders, pumps and travel trailers.
The Cross Country 300 features a 22 HP Kubota water-cooled Tier 4 Final diesel engine. This machine produces 300 amps DC/32 volts at 100% duty cycle and a range of 40-300 amps. In addition, the Cross Country 300 produces 11,000 watts of three-phase continuous and 10,000 watts of single-phase continuous AC generator power.
Introductory Rebate
For a limited time, a $500.00 introductory rebate will be offered on Cross Country 300 models purchased through August 31, 2015. Learn more and download the necessary rebate form here.