Deep Toronto fibre project demands robust video inspection equipment
Ontario contractor makes short work of long pipe runs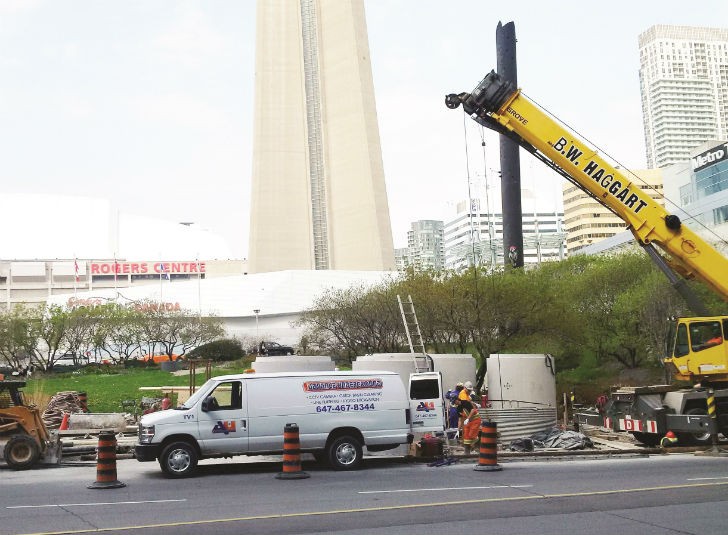 When Arno Électrique Ltée. of Trois Rivieres, Quebec sought a contractor to perform pre-installation video inspection of PVC conduit piping before they could place fibre optic cable for a new Toronto hydro-electric station, their options were limited. Their customer, Hydro One, had presented a challenging project, whose demands few inspection providers would be able to meet.
Sixteen conduits would require inspection, parts of which were 160 metres (525 feet) down. The dimensions were daunting: Each PVC conduit run was about 800 metres (2,625 feet) long, varying from six to eight inches in diameter. All were encased in concrete, running along either side of a long walkway down the centre of an underground utility tunnel.
The contractor's equipment would need to be durable enough to work in tight spaces, and its inspection team would have to work around construction crews in the tunnel's confines. Arno needed a contractor with the expertise and equipment to tackle this demanding job. Frank Corrente of Scarborough's Advance Underground was one of only a few video inspection service providers to look at the project, which took place in April, 2015.
Punishing environment
"I could see we'd be having to thread our equipment through scaffolding, with other construction work still going on around the pipes," Corrente recalls. "We'd also have to send equipment down deep shafts, around sharp bends and down steps. There were only three access points, so I knew we were going to have to rely on the durability of our equipment because this would be a punishing environment to operate in." But he was confident, having outfitted his team with the most rugged workhorse of video inspection systems.
"Frank came to us about a year ago and wanted a basic, entry-level mainline inspection system for pipes between 4- and 60-inch diameter," recalls Frank D'Andrea of Ratech Electronics Ltd. in Vaughan, authorized distributor supporting Eastern Canada for R.S. Technical Services, Inc. (RST). "He knew he would have to provide both small and large pipe inspections to his customers – contractors, builders, cities and municipalities in Ontario. He was looking at various equipment brands, and was very specific in his requests.
"They needed certain features: The transporter had to be steerable, they needed a pan-and-tilt camera with zoom capabilities, and the most durable and robust cable on the market. We knew right away that the RST product line provided us with easy solutions."
Right tools for the job
Knowing the long, deep pipe runs in the regional market, D'Andrea recommended RST's steerable, 4-wheel drive TranSTAR transporter, which travels up to 70 feet per minute and is capable of 2,000-foot distances in a single run. The RST TrakSTAR pan-and-tilt camera was recommended for its 40:1 zoom function. Most importantly, the quarter-inch, 1,500-foot operating cable is steel-armored and uses flexible, compact, single conductor technology. Not only would this 5,400-pound tensile strength cable be rugged and easier to handle, it also came with a five-year warranty, offered by no other pipe inspection camera manufacturer.
Corrente knew it was the system he needed. To save money and shorten the time to become operational, he purchased a cargo van and had Ratech outfit it with the chosen RST camera equipment.
"We gave them two choices," says D'Andrea. "One was to purchase the RST Portable Cube System, whereby the camera equipment, cable and reel are contained in an aluminum box easily fitted in the back of a pickup, cargo van, ATV or trailer. The other choice was for us to simply install the equipment in the cargo van, modifying the centre section with a studio and camera controls." Advance Underground went with the latter option, allowing Corrente to put money saved toward the purchase of a larger, refurbished RST storm drain tractor.
Going in confident
His prescient reasoning earned his company the contract for the Arno inspection job. "I was pretty confident that we could do the job," he says. "A few other contractors came to take a look but realized it was too much for them to handle. I think I was the only guy who said yes to the job."
The main source of his confidence was the armoured control cable on his equipment. "You couldn't do this job without that rugged, quarter-inch cable that could act as a winch. Its pull power and cable protection were necessary for this job. I've been in the business a long time and with other cameras, we had to change the cable every two to three years. But with RST, we've never had to change a cable... they just hold up that well. Ratech guided me to keep in mind the cost of cable replacement, but said they'd never had to do that with other RST customers."
That was a critical decision, because the cable not only controls the transporter but the camera, and contains the optical signal wire as well. "You go through a tough winter with a lesser cable and the picture starts to falter," Corrente explains. "This tractor has been through some pipes where I can't believe they got through the debris. Others would have either blown the motor or just not gotten through. You can't believe the bricks and stuff this crawler and camera have to go through, but the quality of the picture stays crystal clear."
Even the long runs weren't daunting, due to his assurance about the inspection camera. "We knew if we ran out of cable, we could still zoom in for a good quality picture."
In and out
Since the pre-install inspection was mandatory, budget wasn't a serious issue on this project. Corrente estimated five to eight days, but navigating the tricky in-pipe environment slowed them down, along with having to maneuver around construction workers in the tunnel. The crew ended up taking 12 ten-hour days to complete the project, including four nights at the end to make up for delays caused by accommodating surrounding construction crews.
Advance Underground ran a four-man crew, with one in the truck on the controls. One was at back of the truck to assist, another was at the shaft access hole, and the last one was at the shaft bottom – 40 metres down and another 40 to the pipe opening – guiding the cable. The inspection revealed eight to 10 spots where joints were offset, which could have damaged the very expensive, sensitive fibre optic cables to be threaded through for the plant's electrical service. Arno's construction crews cut into just those areas of concrete needed to realign the PVC pipes, then Advance Underground went back in to review the repairs before approval could be issued to place the fibre optics.
Arno's project supervisor, Steven LaVoie, is pleased with Advance Underground's work, which helped the project stay on track for the plant to go online late next year or in early 2017.