3D GIS For Underground Utilities Management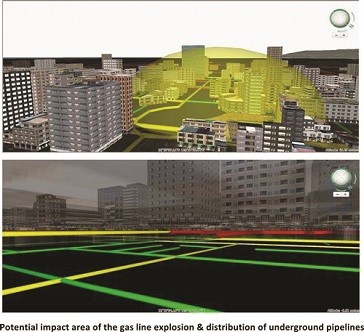 The management of underground pipeline utilities is a great part of urban development and disaster-prevention management. SuperGIS 3D Earth Server provides the ability to visualize and manage underground utilities. Users can observe pipelines through an underground view to better understand a pipelines' distribution and to cross reference the information of buildings and traffic on the surface for urban development and preservation.
In addition to the underground view, SuperGIS 3D Earth Server also allows users to create a profile of their underground utilities, allowing pipeline managers to know the relationship between the excavation position and vertical distribution of other pipelines.
SuperGIS 3D Earth Server displays pipeline information on a 3D map (such as year, administrative departments, and so forth) by clicking the pipeline on the interface of the profile view. Administrators can benefit by completely comprehending the impact of an underground pipeline from the 3D display and full-scaled view of pipelines. For example, the potential impact area of a gas line explosion at a specific location can be seen clearly on the 3D map; hence, as long as a gas leak event is detected, authorities can quickly find out the impact area and evacuate residents to reduce damage.
Company info