S1E wins innovative product award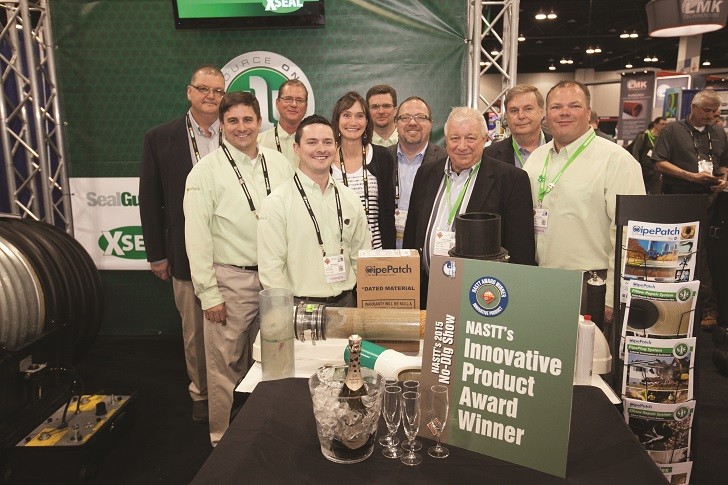 NASTT, the organization that puts on the No-Dig trenchless conference and trade show, annually recognizes companies with state-of-the-art products in the trenchless construction industry.
This year, the two winners of the Joseph L. Abbott, Jr. Innovative Product Awards were TT Technologies, for its Grundopit-K Keyhole mini directional drill, and Source One Environmental (S1E) for its trenchless pipe repair systems.
The PipePlug and Pillow repair systems are cured-in-place pipe (CIPP) rehabilitation products made by S1E, a Michigan-based company with an office in Sarnia, Ontario. PipePlug captured the NASTT Innovative Trenchless Product of the Year Award, while the Pillow system was a finalist. Both accolades were handed out on March 19 at the NASTT No-Dig Show in Denver, Colorado.
PipePlug and Pillow are extensions of Source One's PipePatch system: PipePlug is used to terminate unwanted lateral connections to sewer lines (from abandoned homes, for example), while Pillow is designed for spot repairs on larger-diameter pipes. The full range of PipePatch products can be used to fix pipes from 1.5 inches to 48 inches in diameter. Patches come in two, four and seven-foot lengths.
Unwanted laterals are a significant contributor to inflow and infiltration (I&I), or groundwater and stormwater-penetrating sewer systems.
That's a big issue for municipalities for a number of reasons, not the least of which is the fact that all of this additional water inevitably winds up at the sewage-treatment plant. Once there, the municipality has no choice but to treat it – at the taxpayer's expense. In some cases, damage to underground pipes can reach a point where the pipe is broken and flow is restricted, or the surrounding soil drops into the pipe itself, triggering costly sinkholes and other havoc at ground level.
The traditional way of tackling such problems is familiar to any commuter who's been snared in construction-related traffic: the municipality– or a contractor– brings in excavators, dump trucks and other heavy equipment to dig down to the trouble spot and make the fix from the outside.
PipePatch – and technologies like it – take a less disruptive approach. "PipePatch is basically a stent put into your arteries," says Michael O'Toole, S1E's Canadian sales manager. "We're going trenchless into a pipe and repairing that structurally with a sheet of fibreglass with silicate resin."
The process begins by dropping a camera into the pipe to get a fix on where the repair needs to be made. "My rule of thumb is if you can get your camera there, we should be able to repair it," says O'Toole.
Then PipePatch comes into play: it consists of an air bladder (or packer) the user covers with fibreglass, inserts into the pipe and inflates with a compressor at around 25 psi on average, according to O'Toole.
Once inflated, the patch cures in about 60 to 90 minutes at 75 degrees F, leaving a repaired section that's about 1/8 of an inch thick, only marginally different from the original.
And unlike many CIPP systems, which need steam (and/or heat) to cure, PipePatch, an ambient cure, cures in the presence of water, so the line can stay active while the repair is being carried out.
S1E doesn't install PipePatch. Instead, the company trains municipalities and contractors to use it themselves.
For municipalities, the appeal of trenchless products like PipePatch is straightforward: lower costs.
According to Chris Petrie, operations manager for water and sanitary systems at St. John Water in St. John, New Brunswick, the savings can be significant.
"We go in and we video every street that's being resurfaced, and before it's resurfaced, we repair the sewer and spot repair where we need to with PipePatch," he says.
"In terms of efficiency, I can do a regular-size eight-, 10-, 12-inch repair for about $1,500 total. That includes the kit, my labour, my vehicle use and a little bit of money put in there for the packer, because the packer is a consumable. You can only do so many patches with the packer before it breaks."
By contrast, Petrie says, a comparable repair could run in the $4,500 to $5,000 range using traditional open-cut methods. Plus he can make repairs more quickly: close to four a day using PipePatch, compared to one for open-cut.
With numbers like those, it's easy to see why Petrie sees trenchless technology as the way of the future. There are intangible benefits, too, like less ire from residents who watch workers rip up perfectly good streets to make an underground fix.
"What's interesting is the citizens that are in their homes come out and talk with us, and we tell them we're fixing the sewer without digging up the street," says Petrie. "And for those citizens who live on that street, they think it's fantastic." CUI
Related Articles
As one of the latest models in the R2-Series excavator lineup, the Bobcat® E88 delivers durability, performance and quality for more productivity. Technically speaking, it's a compact machine, but it brings big performance with its redesigned engine and optimized lift performance, plus undercarriage and counterweight improvements. All these enhancements make this excavator one of the highest-performing models in its size class. With impressive over-the-side lift capacity, you can dig with greater confidence over the side of the machine. Put it to the test against similar models from other manufacturers. You'll see that the E88 can outwork the competition.