Illinois utility starts drone tests
New technology could head off outages, restore power faster and improve worker safety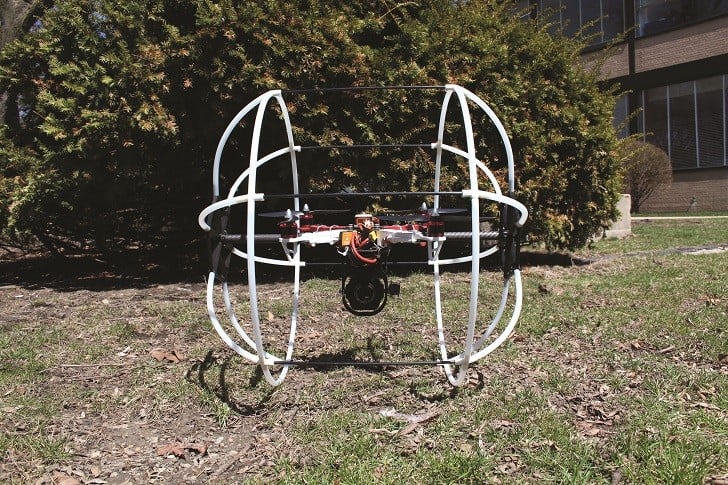 A giant power utility and unmanned aerial systems (UAS) – better known as drones – may seem like an unlikely combination, but Illinois-based Commonwealth Edison (ComEd) hopes to change that.
The utility, which has 3.8 million customers across northern Illinois, operates a distribution network that includes nearly 145,000 kilometres of power lines and more than 32,000 underground vaults.
"We have a big urban centre like Chicago, of course, but we have a large part of our territory that is rural. A lot of our lines are off the road. They're along railroads, along lakes, and they're hard to access," says Terence Donnelly, ComEd's executive vice-president and chief operating officer. "You need special equipment. A lot of times you have to walk these lines."
In addition to sending workers in on foot, ComEd uses helicopters to inspect some transmission lines and substations. But that could change if the company's first drone, developed in collaboration with the Illinois Institute of Technology (IIT), performs as hoped in a test that started this summer.
Rise of the machines
"The genesis really is that 2011 was our worst storm year, with one storm affecting over a million customers," says Donnelly. "A couple of our employees said, 'There have to be some better ways to do damage assessment, and can we use new technology?'"
ComEd decided to explore the issue further, which led to the collaboration with IIT. The US Federal Aviation Administration signed off on the plan in February, making ComEd the first utility in the country to win approval for drone use as part of its ongoing operations.
"We have about 18 use cases we're looking to test," says Donnelly, "everything from inspection of transmission, inspection of distribution, lines in wetlands, those types of things."
ComEd's test drone is an off-the-shelf model called the DJI S900, which is held aloft by six electric motors attached to 38-centimetre propellers. According to DJI's website, the S900 weighs in at 3.3 kilograms and boasts a maximum takeoff weight of 8.2 kilograms, meaning you can load an additional 4.9 kilos of gear aboard. For ComEd, the focus will be on imaging.
"We're looking at not only the visual camera, which will get us more data on the damage, but a lot of our use cases are on preventing outages, so we're looking on the UAS overhead thermographic [or infrared] camera to detect hotspots," says Donnelly. "That's obviously a fairly wellproven technology. What's not is when it's hooked to a drone. That's where it needs to be proven out."
With a network as big as ComEd's, flight time is also a huge concern. DJI's website says the S900 has a maximum flight time of 18 minutes per charge.
"All of these rotocraft are fairly inefficient because you're spending a lot of energy just hovering in the air," says Dr. Matthew Spenko, IIT associate professor of mechanical and aerospace engineering.
One modification they'll be testing is the addition of a lightweight cage, allowing the drone to roll as well as fly. "Our hope is that this would allow a much greater operating time when used out in the field," says Spenko.
So how great could those power savings be? "We've shown that we can extend the [drone's] range by about five to six times. That's if you are on asphalt, so we're not sure what's going to happen once we get into conditions ComEd is interested in, and that's what we're interested in from a research perspective: what happens when people use these things outside the laboratory. Even if we get two times the range, that's still very significant."
Robots above and below
ComEd's drone ambitions don't stop with the skies – it aims to send robots into its underground network, too.
This program is still in the early stages – basics such as a propulsion system haven't been worked out yet – but ComEd hopes to collect data from below city streets before workers head down, giving them a better lay of the land and tipping them off to anything that may be a safety risk.
"Right now the worker goes into the manhole and uses a handheld digital [thermographic] camera to detect hotspots and latent defects that could be a safety hazard," says Donnelly.
"So when we look ahead to underground robotics, we're thinking in terms of seeing thermographic imagery and also perhaps imagery that can help with the mapping of the assets in the manhole. Geospatial-type information in terms of records and cable identification could also be useful," he adds.
Collaboration is key
As with the UAS program, ComEd is teaming up with another organization to help develop its underground drones – in this case the National Electric Energy Testing, Research and Applications Center (NEETRAC) at Georgia Tech University.
Donnelly sees partnerships like these as crucial to tapping into the expertise needed to make the most of new innovations like drones.
"With the different challenges of grids today, utilities of the future and technology, we really need strong partnerships to go after these types of improvements versus a utility going it alone," he says. CUI