RFID-enabled InfraMarker cuts locate times by a tenth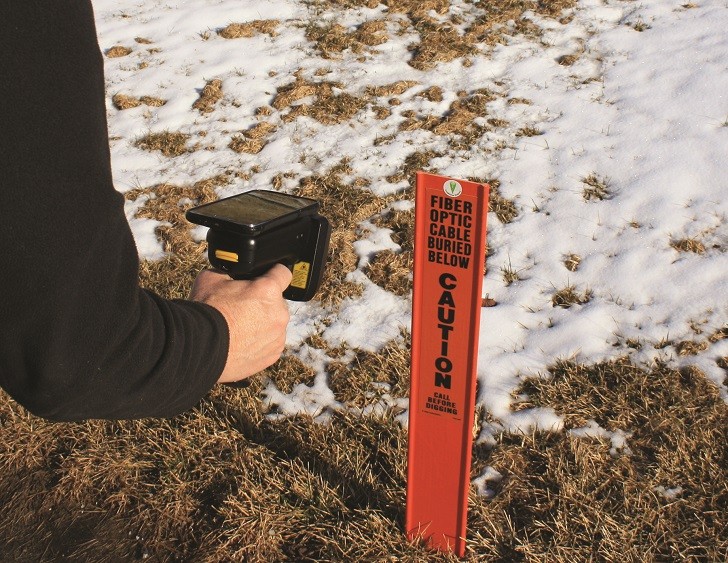 Finding and identifying underground assets has long been a challenge for utilities, municipalities and facility managers. Mistakes and accidental hits are both costly and dangerous. Now, thanks to infrastructure-marking experts Berntsen International, there is an easier way to mark utilities and manage them using the latest technologies available to the industry.
Utility contractors know that locating an underground asset can be a time-consuming process, especially if the information they are given is inaccurate, or the mapped position is only accurate to within several metres. It was with that problem in mind that Berntsen, a 40-year-old company, set about trying to reduce locate times for gas, water and sewer pipes underground, as well as assets on-surface. Its answer? The Inframarker RFID System.
"It still takes a very long time to identify a key underground asset point," says Mike Klonsinski, business development director at Berntsen.
"That time translates into higher expense and the indirect costs of delays – such as holding up a construction project – can be huge. Even worse, delays in finding a leaking valve can risk lives. We developed InfraMarker to address these costs and risks."
Described as "a state of the art integration of RFID technology, magnetic locating technology, cloud data storage and mobile software to locate and manage underground utility infrastructure," the key to understanding how InfraMarker works is having a handle on RFID, which stands for radio frequency identification.
Most people are familiar with RFID tags from their use in many consumer applications as a tool for identifying products. The tags or tiny chips, some of which are the size of a grain of rice, are implanted in everything from automobiles to clothing to pets and livestock to track their movements. The technology can be credited with doing away with toll booths on toll bridges, since most are now outfitted with RFID readers that read a chip on the vehicle as it whizzes past, thus enabling the driver to be billed.
Over the years, RFID has assumed an increasingly important role in marking underground infrastructure. As regulatory requirements for locating, maintaining and auditing pipeline assets become more stringent, many cities and utilities are turning to RFID as an acceptable maintenance and asset audit tracking solution, particularly the installation of RFID tags in new underground construction to mark underground utilities.
The technical challenge to implementing RFID in underground applications is that the radio signal is easily attenuated when attempting to travel through dirt which dramatically reduces the read range when compared to 'in air' applications such as a toll booth. Early versions of RFID underground marking used low frequency RFID which allows deeper reading but requires heavier equipment and transmits information slower.
Berntsen's InfraMarker innovation utilizes the more common UHF (Ultra High Frequency) RF technology which provides advantages of easier field use, greater information capacity, and compatibility with above-ground infrastructure tagging systems. A field locator can use a handheld RFID reader and a smartphone to read underground tags marking a gas valve while using the same equipment to mark and read an above-ground warning post.
Once an RFID tag has been placed on the asset, the locator can use a mobile app on their smart phone to control the RFID reader and communicate with the tag. The user then has the option to upload the information to the cloud, send it via a Web server to the office, or wirelessly to employees working at the site. The software also allows users to take photos, videos or attach documents.
According to studies conducted by the Geo-spatial Research Application Center at Auburn University, the InfraMarker system can cut locate times by a tenth. The company says InfraMarker has several advantages over current locating practices, including ground penetrating radar or tracer wire. These include the light weight of the locating equipment; wireless and smartphone compatability; cloud data storage; and software tailored to the customer.
Klonsinski said the last advantage is particularly important because it allows easy integration into users' existing geographical information systems (GIS).
"We're actually bridging the gap between the customer's field assets and their GIS systems," he said. CUI
Related Articles
As one of the latest models in the R2-Series excavator lineup, the Bobcat® E88 delivers durability, performance and quality for more productivity. Technically speaking, it's a compact machine, but it brings big performance with its redesigned engine and optimized lift performance, plus undercarriage and counterweight improvements. All these enhancements make this excavator one of the highest-performing models in its size class. With impressive over-the-side lift capacity, you can dig with greater confidence over the side of the machine. Put it to the test against similar models from other manufacturers. You'll see that the E88 can outwork the competition.