STORMTANK ARCH FOR LARGE FOOTPRINTS
CAPABLE OF STORING LARGE VOLUME OF WATER WITH LOW PROFILE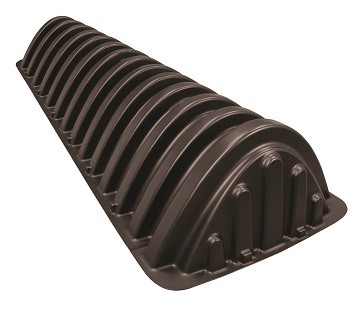 Brentwood is extending its stormwater product line with the introduction of the StormTank Arch to provide a solution for large-footprint, subsurface stormwater management projects.
The Arch offers a cost-effective means of promoting infiltration for commercial and recreational applications, in addition to maximizing developmental space. Commonly installed under parking lots, parks and athletic fields, the Arch system is capable of storing a large volume of water while maintaining a low profile. The Arch features structural rib end panels, which are molded to provide system strength, and interlocking end corrugates to allow for overlapping and easy installation. When stormwater runoff reaches the Arches, it is able to soak into the ground and recharge the groundwater table because of the Arch system's large footprint and open-bottom design.
More from Storm Water
Industries such as construction, mining, energy, utilities and forestry, face many challenges when it comes to tracking assets and employees. Equipment often has to be transferred between locations, or monitored while it is dormant during off seasons. Lone workers may have to travel long distances or visit multiple sites during the course of their activities. And, all of this is further complicated today with shifting supply chains and economic realities putting further strain on the bottom line.