Subsite Electronics 830R/T High-Frequency Utility Locating System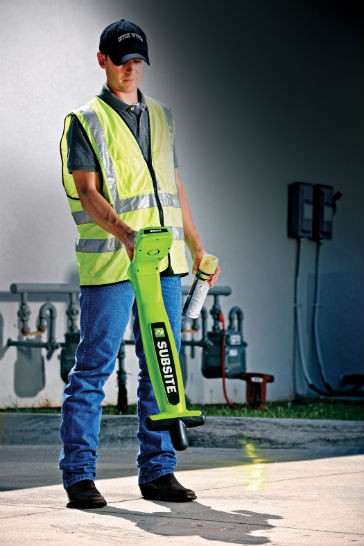 Made to withstand the demands of rugged jobsites, the Subsite Electronics 830R/T high-frequency electronic locating offers outstanding performance at a very high active frequency.
This contractor-grade locating system can trace poor conductors, such as ungrounded tracer wire, and locate short lengths of utility infrastructure better than low-frequency units. Automatic features—such as gain control, auto depth, and visual and audio feedback—make the 830R/T easy for even novice operators to confidently identify and trace metallic pipe or cable, water, and gas distribution lines.
Operators can also depend on the system's long battery life: 150 hours on the transmitter, 75 hours on the receiver. Adaptive filtering, one of the system's many industry-exclusive features, ensures that the 830R/T is highly responsive in all modes of operation, providing left-to-right guidance very quickly regardless of mode or operator style.
In Peak Verify mode, another exclusive feature, the 830R/T system gives operators an additional way to confidently verify the location.