New no-hassle hose on vacuum excavator will save crews time, energy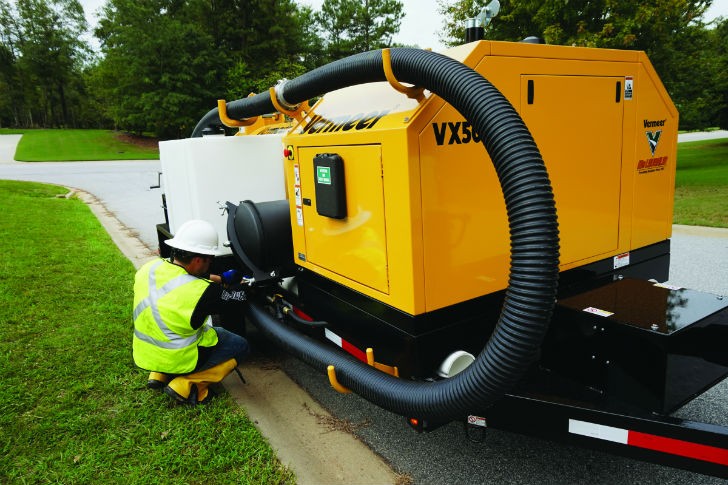 McLaughlin will introduce this fall the next generation of its most popular vacuum excavator with an update that includes a no-hassle hose design that will help save crews time and energy.
The VX50 Gen 3 vacuum excavator features a hose that can hang on the side of the machine as potholing crews move from hole to hole. Current designs on the market require a hose to either be coiled into place or disconnected and put away.
"Hose handling is the top non-value-added activity of a potholing crew," said Jeff Wage, McLaughlin vice president. "With the VX50 Gen 3, an operator simply hangs the hose on the side of the machine, moves to the next pothole location and pulls the hose off when he's ready to work again. It makes crews much more productive by reducing the time and energy spent handling the hose."
The VX50 Gen 3 vacuum excavator is ideal for potholing jobs by utility contractors. It features spoil tank capacities of 500 and 800 gallons (1,892.7 and 3,028.3 L). The vacuum hose is 4 inches (10.2 cm) in diameter and has a flow rating of 1,025 cfm (29 m3/min) at 15 inches (38.1 cm) of mercury.
The third-generation vacuum excavator is powered by a 49-horsepower (36.5 kW) Kubota Tier 4 final engine with a common-rail fuel injection system.
The VX50 Gen 3 includes two features McLaughlin customers have come to rely on. One is an industry-exclusive 3-stage cyclonic filtration system that allows for both wet and dry vacuum excavation while prolonging filter life and helping to keep maintenance costs low.
The other is the McLaughlin patented cam-over hydraulic rear door. It provides a 360-degree positive seal, even under reverse pressure, without additional clamping requirements to keep fluids securely in the debris tank. No components are inside the tank, so maintenance is external.
Automatic belt tensioners on the blower and the water pump help to make service simpler and faster. It also has a patented in-tank washdown system that makes it easier to remove debris and saves on tank cleanup time.
"The VX50 Gen 3 vacuum excavator was designed with the operator in mind," Wage said. "The existing VX50 series is a great product, but the new generation shows we want to continuously make it the best, most efficient vacuum excavator for our customers."
The VX50 Gen 3 vacuum excavator will be available this fall through the Vermeer global dealer network.