HammerHead Equipment announces expansion to CIPP product line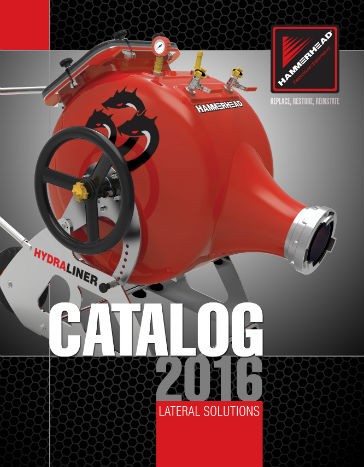 HammerHead Trenchless Equipment has announced significant additions to its HydraLiner lateral solutions product line. These include Super Flex, Scrim and Brawoliner 3D liners, a new ambient epoxy system, their 2016 lateral solutions catalog and a dedicated commercial line of credit via the new HammerHead MasterCard.
Brawoliner 3D is a premium transition liner designed for ambient and hot water cure. It is a woven, seamless liner suitable for installations with multiple 45 degree and sweeping 90 degree bends, and/or transitions. It can upsize from 3 to 4 inches, from 4 to 6 inches and from 6 up to 9 inches. Super Flex liner is an economic solution for 45 degree and sweeping 90 degree bends, and is suitable for use in both ambient and hot water curing applications. Scrim liner is designed especially for accuracy in straight shots where there are no transitions. This scrim-reinforced liner prevents longitudinal stretch and ensures an accurate inversion length.
HydraLiner's new ambient epoxy system is specially designed to deliver quick set times—about 1.5 to 2 hours— and working times of 25-30 minutes without the need for heat. It is available in 5 gallon, 55-gallon, and 275-gallon containers. Epoxy to hardener mix ratios and cure times can be easily calculated using the HydraLiner Calculator mobile app. The free app may be downloaded from the Apple App Store, Google Play or the Windows Store.
HammerHead Equipment has also released their 2016 Lateral Solutions Catalog, which lists all the above products and many more in 48-page print or digital versions. Print versions can be obtained by calling 800-331-6653, and PDF copies are available on both the HammerHead Equipment and HydraLiner websites.
"The catalog emphasizes how complete our lateral solutions offering is now," said Ryan Boldan, lateral solutions manager for the company. "We're dedicated to giving our customers a single source for everything they might need, and we're trying to make the procurement process as quick and easy as possible. Our catalog lists CIPP equipment and consumables, PortaVision inspection cameras, PortaBurst pipe bursting and replacement systems, and water line slitters, along with financing options for all of it."
Those financing options include the new HammerHead MasterCard from Bank of the West, a dedicated commercial line of credit that Boldan says offers customers an easy and convenient way to pay for equipment and consumables.
The HydraLiner liners and epoxies are available from HammerHead Trenchless Equipment or from authorized dealers, worldwide. Authorized dealers can be found on the web at www.hammerheadtrenchless.com or www.hydraliner.com