Remote-controlled skid steer among new product offerings from Caterpillar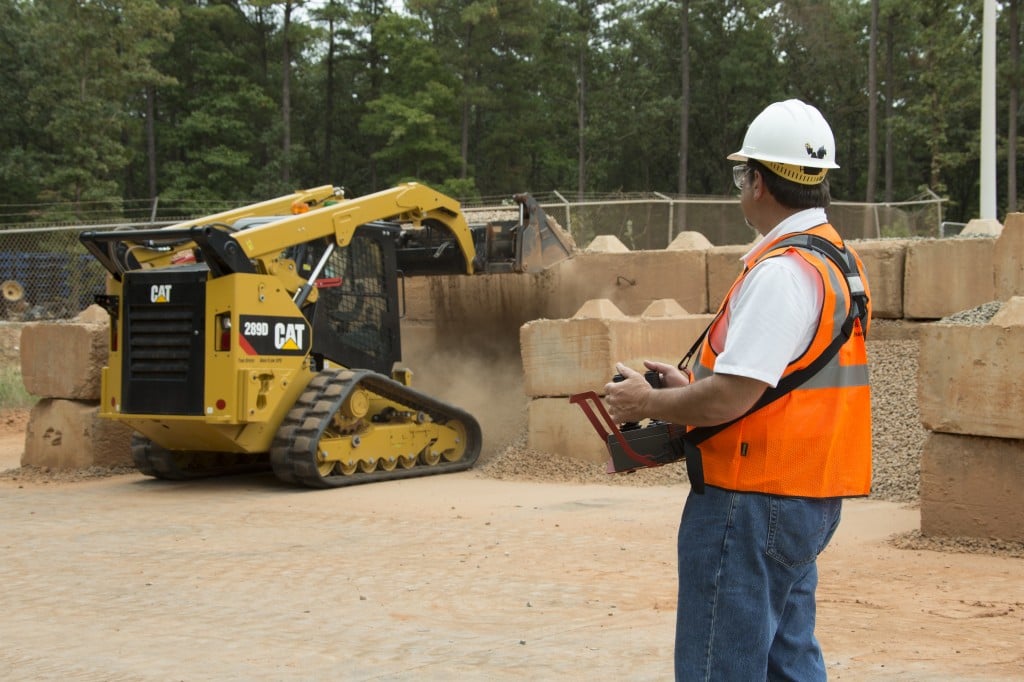 With a renewed focus on technology and in particular, automated functions to assist the operator, Caterpillar has introduced a series of new products to the heavy and light construction machinery markets.
The company presented 14 new equipment models earlier this month at a press conference in Peoria, Illinois, around half of which have applications suitable to contractors moving earth in and around underground utilities.
RemoteTask system
One of the more interesting innovations from Caterpillar, from a new technology perspective, is a remote-control system for Cat D Series Skid Steer, Multi Terrain and Compact Track Loaders. Equipped with the RemoteTask system from TORC Robotics, the system enables operators to precisely control the machines from outside the cab — up to 1,000 feet (300 m) and at a safe distance from potentially hazardous tasks and environments.
The remote control interface, which fits into a harness worn by the operator, is designed to closely mimic in-cab machine controls, creating an easy operator transition from manual to remote operation, says Cat.
Transforming a machine from manual to robotics mode takes about an hour. With the system installed, the machine can transition from manual to remote mode at the turn of a key switch. The system is transferrable between units.
RemoteTask can be integrated into 16 models of Cat D Series Skid Steer, Multi Terrain and Compact Track Loaders and can control over 200 work tools with all hydraulic functions controlled via the remote system.
Applications include trenching for installation of underground utilities, building fences and retaining walls, and cutting concrete or cold plane pavement. One interesting use of the remote-control unit is for discharging and cleaning the holds of ships, where the machinery is lowered into the hold by crane, operated remotely, and then lifted out once tasks have been completed.
Also available in the D Series Skid Steer, Multi Terrain and Compact Track Loaders, Cat has introduced hand and foot controls which will be available as options on these models.
The move to offer hand and foot controls - two hand controls to drive, and foot pedals to control the lift and bucket functions - expands Caterpillar's offerings in these machines from its pilot-controlled joysticks introduced about 15 years ago. Historically, Cat's joysticks come in both an ISO pattern, meaning one joystick to drive and one to control implements, and an H pattern, where two joysticks control the drive functions and a separate set of joysticks control implements.
"We are offering all three patterns, that are prevalent in the industry, to be able to serve all operators who are interested in operating a Caterpillar machine," says Jeff Brown, product development/ marketing at Caterpillar.
The Cat Hand & Foot Controls option will be available for the 226D, 232D, 236D, 242D, 246D and 262D Skid Steer Loaders; for the 257D, 277D and 287D Multi Terrain Loaders; and for the 239D, 249D, 259D, 279D and 289D Compact Track Loaders.
M Series compact wheel loaders
The new Cat M Series Compact Wheel Loaders ­- 906M, 907M and 908M - feature Caterpillar's Z-bar loader linkage, which combines aggressive digging power with parallel lift. These models use a 75-gross horsepower engine with an electronically controlled hydrostatic drive system that meets Tier 4 Finalemission standards. Electro-Hydraulic controls allow for engineering enhancements for the drive system, implement controls, auxiliary hydraulic system and loader linkage.
The M Series features the Cat C3.3B engine, transversely mounted with excellent service access for routine maintenance items. Single-plane coolers use an efficient hydraulically driven fan or an optional Cat Demand Fan that operates at maximum speed only when required. An ECO mode regulates the engine's high idle while maintaining full rimpull and breakout force capability - saving fuel and lowering sound levels for the most common tasks where maximum productivity is not required. Exhaust aftertreatment utilizes a diesel particulate filter to achieve emissions standards.
The Cat Hystat system can achieve up to a 22mph (35 kph) top speed for these models with the optional stop-to-shift transmission that allows the operator to choose between max rimpull and max travel speed via a convenient switch on the RH console and automatically regulates speed during downhill travel.
These machines are available with two coupler options, a Skid Steer Loader style coupler, compatible with most skid steer loader work tools, as well as the Cat coupler, designed to work with a full range of Cat buckets, optimized pallet forks and certain competitive attachments.
307E2 mini hydraulic excavator
The new Cat 307E2 expands the mini hydraulic excavator machine range to include an additional solution for the seven to eight metric ton weight class. The 37.7kW (50.3 hp) Cat C2.4 turbo engine (Tier 4) and the High Definition Hydraulic System, which is load sensing and flow sharing, allows the machine to offer superior performance, according to Cat.
The 307E2 offers maximum stability, reach, and lift capacity with its standard tail swing and fixed boom design. The cab delivers superior comfort with an air suspension seat, retractable seat belt and COMPASS monitor with colour display. The COMPASS monitor allows the operator to quickly enable and modify machine features such as: Adjustable Auxiliary flow for enhanced work tool control; Hydraulic Quick Coupler selection to change work tool attachments; Auto Engine Idle for improved fuel efficiency; and Security System features to protect equipment on the job site. Additionally the pilot controls deliver machine control with fine modulation while eliminating the need for linkage and cable maintenance, lowering owning and operating costs and resulting in less downtime, the company states.
Secondary auxiliary lines come standard on the 307E2 along with a "thumb ready" stick. Track options will be either steel tracks or steel tracks with pads. Furthermore it shares work tools with the 308E2 platform along with new features including: Power On Demand which ensures full time efficiency and power; Site Reference System which aids with grading and level trenching; and the Rear View Camera which decreases blind spots and aids in machine positioning. All these features are standard on the new 307E2.
325F hydraulic excavator
The new mid-size Cat 325F is a compact radius excavator built for close-quarters work. The machine features a Cat C4.4 ACERT engine paired with a hydraulic system. Engine emissions meet Tier 4 Final regulations.
Compared with its Cat 321D Tier 3 predecessor, the 325F can run on biodiesel up to B20. Based on engineering validation, it will consume up to 22 percent less diesel fuel than its predecessor, with no loss of swing torque and bucket and stick forces, the manufacturer states. With a maximum lifting capacity of 27, 000 pounds (12 650 kg) at 15 feet over the front at ground level, the 325F exceeds its predecessor model's capacity by 8 percent.
The 325F features proven electronic, fuel, air and aftertreatment components such as a maintenance-free diesel particulate filter, and it has isochronous control that automatically manages pump and engine speed for improved fuel efficiency. Boom and stick recirculation valves reduce fuel consumption and speed up cycle times, and a choice of three power modes - high power, standard, and eco - help owners more actively manage fuel consumption. A variable-speed fan for less energy consumption and noise, high-ambient cooling capability to work in extreme heat, and altitude capability up to 9,840 feet (3000 m) with no engine de-rating round out the machine's high-performance attributes.
The 325F's compact radius design makes it ideal for working confidently in space-restricted areas like road jobs with lane closures and next to buildings or other structures. With a front swing radius of 7'8" (2.34 m) and a tail swing radius of 5'8" (1.72 m), the machine can dig, swing, and dump within a working space of 13'4" (4.06 m). When rotated 90 degrees and working over the side, just 135 mm (5") of counterweight extends beyond the track width, which allows trucks and jersey barriers to be positioned closer to the machine. Bucket linkage is the same as the 321D, which means operators can work with the same tools. The new model includes quick coupler lines and circuit compatible with the new Cat Pin Grabber coupler. Using this coupler allows quick attachment changes from the safety of the cab and increases job site flexibility. The combination of a quick coupler, versatile attachments, and a machine built specifically as a tool carrier (with medium, high pressure, and quick coupler lines and circuits) allows operators to get the most versatility from the machine.