Flood events causing insurance rates to spike in Ontario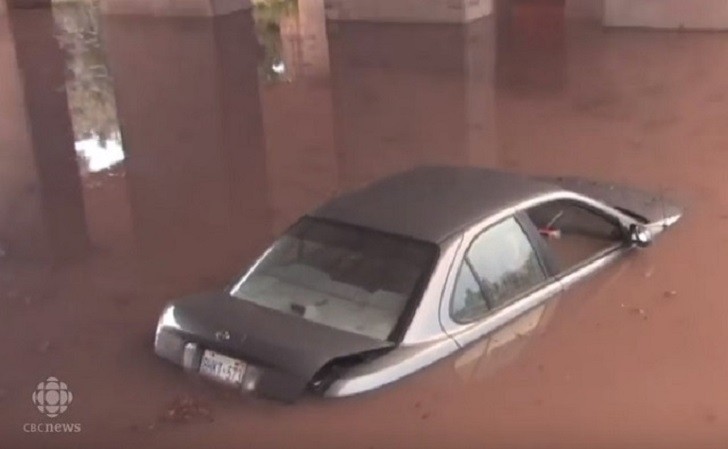 Catastrophic flood events like the one that occurred in Burlington, Ontario in August 2014 are catching municipalities unprepared and leading to a rise in insurance rates for homeowners.
The rogue storm dropped 7.5 inches of rain in less than three hours, causing people to swim from their cars, and caused property damage to over 3,000 homeowners, according to a recent article in The Tyee which included an interview with Burlington's mayor, who saw five feet of water enter his basement.
According to the Insurance Bureau of Canada, for the past four years, flood-related insurance payouts have been near or above $1 billion. One of the worst years for payouts was 2013, when losses totalled a record-breaking $3.2 billion as a result of heavy flooding in Southern Alberta and Toronto. That compares to average losses of $400 million a year over a 25-year period between 1983 and 2008.
The Tyee mentions Carolyn Rennie, the director of Catastrophic Loss Analysis at Catastrophe Indices and Quantification Inc., a company that collects data for the bureau, saying that since 2008 there have been 14 flood events in Ontario that cost insurers between $10 million and $25 million.
The insurance payouts have been passed on to consumers. Customers with Intact, for example, saw their rates increase 10 to 20 percent last year.
The other part of the story is how unprepared municipalities are for extreme weather-related events said to be caused by global warming.
The Tyee quotes a study by the Ontario Coalition for Sustainable Infrastructure which surveyed 68 towns and cities to ascertain their sewage infrastructure needs. The study found that over a quarter (27 percent) of municipalities are not doing anything to mitigate the impacts of climate change. Around half said they were working with their local conservation authority, 41 percent were using GIS mapping to identify potential flood areas, and a quarter said they were implementing "green design".
"I was shocked," The Tyee quotes the coalition's executive director, Darla Campbell, as saying. "Of these, and there were 10 or 12 items, none of them is rocket science. Municipalities, and lots of municipalities, are still denying the fact that climate change is a concern."
Last fall CUI reported on the Municipal Risk Assessment Tool (MRAT), rolled out by the Insurance Bureau of Canada (IBC) in 2013 as a way to help municipalities to plan for future flood events, and in the process, reduce insurance claims. The tool is a web-based system that collects data from participating municipalities, combines the data with past insurance claims, and then employs climate change models to generate maps of neighbourhoods most susceptible to basement flooding.
Pilot programs for MRAT are currently being run in Coquitlam, BC, Hamilton, ON and Fredericton, NB, along with nine other communities that are providing data sets.