UV Lining System
Offers advantages over steam-cured processes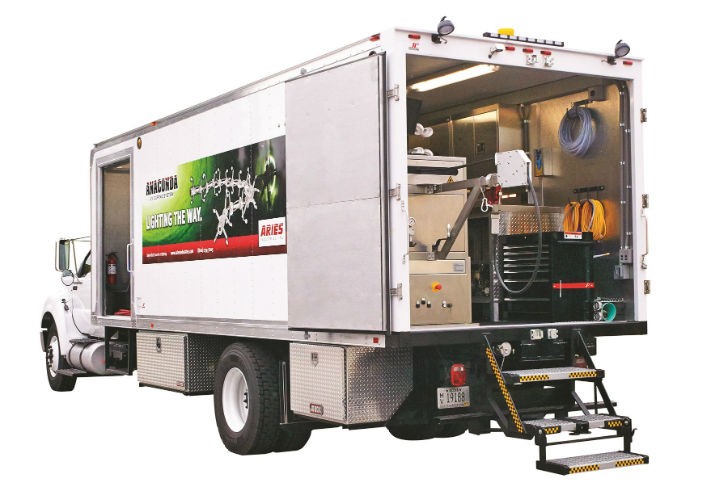 The Anaconda UV Curing System from Aries Industries provides consistent lining installation, with one-third less curing time than steam-cured processes. CCTV video inspection allows the operator to see any sags or wrinkles in the lining so they can be corrected before the curing.
The interest in cured-in-place-pipe (CIPP) liners cured with ultraviolet light is expanding the market by offering a rehabilitation option with significant advantages. UV curing technology is widely used in Europe and its use is now gaining traction in North America.
This rehabilitation method uses a light train that emits ultraviolet light as it is pulled through the flexible, resin-impregnated liner. The UV light cures and hardens the liner, forming a new tight-fitting, joint-free pipe.
Light trains with various configurations are available to match the pipe diameter and profile. An integral video camera inspects the pipeline while the train is initially pulled through the inflated liner. This ensures that the liner is properly fitted. Adjustments can be made before and during the curing process.
After the initial inspection, the UV lights are powered up and the train is pulled back through the pipe. A computer controls the speed of the train, predetermined by the diameter of the liner. The curing speed, liner pressure, ambient and liner wall temperature, and light settings are carefully regulated and monitored. The computer logs the inspection video and data to provide complete documentation.
The UV curing process is simple and fast, reducing service disruptions. The liner is ready to install with no wet-out and little prep work. A 12-month shelf life with no need for refrigeration allows the liner to be delivered directly to the job site.
The process requires no hot water or steam, eliminating the steam truck. Fuel consumption is reduced by up to 90 percent. This environmentally-friendly dry process also prevents lingering odour and potential downstream contamination.
With no need to invert the liner, UV curing requires less equipment, less setup and smaller crews. The smaller equipment footprint is an advantage where space is limited and keeping roadways open to traffic is critical.
Company info
Related products