New CS418B core saw speeds potholing under hard surfaces
Minimizes labor and disruptions to roads, traffic patterns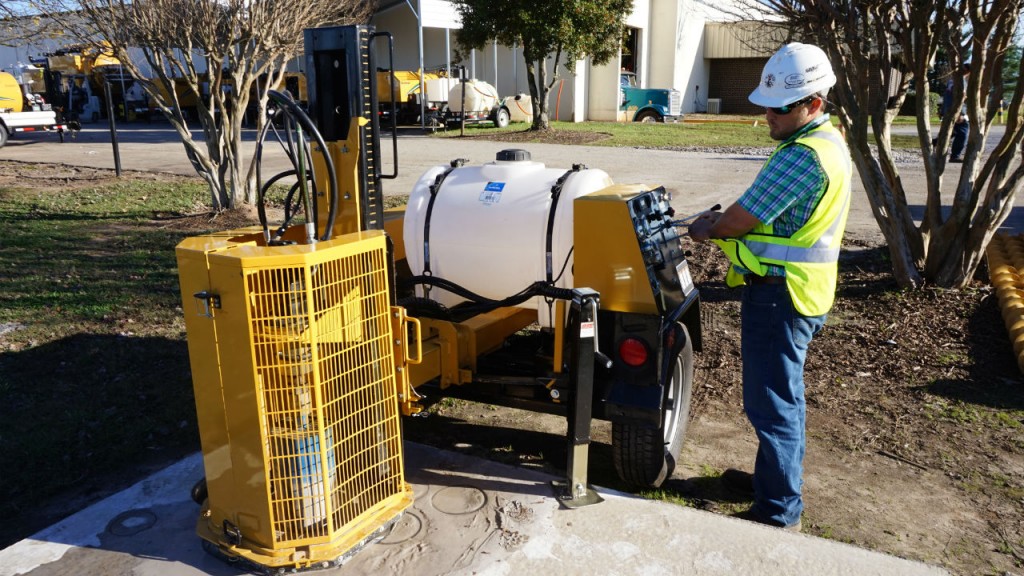 McLaughlin has designed a new core saw to help gas and utility contractors efficiently locate and excavate underground utilities beneath hard surfaces.
The Vermeer CS418B Core Saw by McLaughlin provides utility contractors the ability to cut 4- to 18-inch (10 to 46 cm) diameter holes in improved surfaces, such as asphalt and concrete. Contractors can then use vacuum excavation technology to visually verify the location of utilities before underground construction work begins.
"If there is a critical utility located under a road, most project design specs require the contractor to visually verify the utility's depth, diameter and pipe material before they begin to bore underneath," said Jeff Wage, vice president of McLaughlin. "The advantage of using a core saw instead of breaking up the hard surface is that contractors incur less manual labor costs, reduce restoration costs and can better preserve the road integrity."
The core saw cuts a uniform hole into pavement or asphalt, minimally impacting the surface structure. Once the vacuum excavation process has been completed and utility located, approved backfill material is used for reinstatement. The fill material is compacted and the core is grouted back into place, leaving the road surface with minimal disruption. The radial core preserves the road's integrity by creating less structural damage to road systems, resulting in longer pavement life.
Using a core saw, many contractors are better equipped to provide same-day service. If the project timeline requires the crew to be on-site for multiple days, contractors can replace the core during non-working hours, which creates less disruption to traffic flows than the use of road plates, warning lights or road barricades.
The Vermeer CS418B Core Saw by McLaughlin is built on a portable, compact trailer measuring 137 inches (348 cm) long and 69 inches (175 cm) wide. It can be towed with a ½ ton pickup truck, which makes it easy to transport to the jobsite and creates less traffic flow issues when working in urban areas.
Powered by a 25 HP EFI Kohler engine, the Vermeer CS418B Core Saw by McLaughlin has a two-speed operation that can generate up to 380 rpm for varying jobsite conditions. The on-board water tank holds 65 gallons (246.1 L) of fresh water to help cool the saw bit and extend bit life. The water pump can produce a variable flow from 0 to 2.8 gallons (0 to 10.6 L) per minute.
A telescoping boom sits on a pivot table and swings left and right and 16 inches (40.6 cm) in-and-out. The boom can be hydraulically raised and lowered to provide a greater range of motion, making it easy to position the core saw bit. Contractors can switch the core saw bit size to adapt to changing jobsite demands or replace the thread on the saw to optimize productivity.