European Dryvacs rolling into North America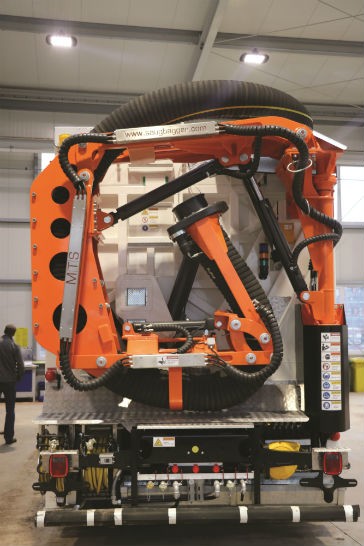 Often seen as the workhorse of the underground construction industry, the hydro-vacuum truck is almost ubiquitous in its presence on most jobs involving the removal of dirt and debris from underground utilities. Whether it's potholing to expose buried facilities, sucking up drilling fluid during an HDD project, or custom-fitting a hydrovac truck to perform sewer cleaning operations, the diversity of applications available to a hydrovac make it an indispensable piece of equipment for a utility contractor to own or rent.
While hydrovacs have been the go-to method of earth and mud removal in North America for decades, the other technology, dry suction excavation, has been less common in Canada and the U.S. The situation is reversed in Europe, where cities and utilities tend to use dry suction excavation trucks rather than hydrovacs. That may be changing, however, thanks to new Dryvac technology from Germany being introduced to North America by Ox Equipment.
The Burlington, Ontario-based company is the distributor for MTS GmbH which has been manufacturing dry suction trucks for about a decade. The trucks have tank capacities of between 4.5 and 12 cubic metres, and all feature an air compressor, a drive system, automated dust filtration,, twin, triple and quad-fan technology and remote-controlled suction hose.
While hydrovacs use water pressure to break apart the material and a vacuum to suck it into the tank, Dryvacs perform the same function using compressed air and a variety of air-powered tools.
Ox Equipment recently brought in two suction excavation trucks from the MTS plant in Germersheim, about a 90-minute drive from Frankfurt, and sold them to Super Sucker Hydro Vac Service, also in Ontario, which operates a line of hydrovacs, as well as dump trucks, concrete and stone slingers.
As more people see and begin to use the Dryvac trucks, other contractors will begin to see the benefits and unique uses for the trucks, says Bryce Jaspers, business development manager with Ox Equipment.
In an interview with CUI, Jaspers explained one of the most important reasons for bringing in the Dryvacs has to do with changing road regulations in Ontario.
Up to now hydrovac trucks in Ontario have been included among certain "road-building machines" (RBM) that are exempted from obligations under the provincial Highway Traffic Act. The exemptions were written into the act back in the 1940s because at the time, RBMs were not manufactured to meet federal safety standards for vehicles operating on a highway. For example RBMs operate at low speeds on the roadway or shoulder during construction or maintenance.
Over time, the types of vehicles considered "RBMs" expanded to include hydrovac trucks, water trucks, concrete pumpers, mobile cranes, etc.
Ontario trucking regulations changing
"As a result, the operators of these vehicles have escaped paying for permits and licence plates, commercial vehicle registration fees, Drive Clean, provincial fuel taxes and insurance. They have also been able to avoid safety inspections, commercial vehicle operator' registration and speed limiter requirements," states the Ontario Trucking Association, in a 2014 article indicating the Ontario Ministry of Transportation is moving closer to closing the loophole that still exists for certain types of on-highway work trucks.
For the Canadian hydrovac industry, closing the loophole could dump a load of unwanted costs onto it, especially if the tightened regulations in Ontario migrate to other provinces. At the same time, the industry recognizes that having fleets of hydrovacs travelling Ontario roads without any mechanism for enforcing weight restrictions is a real issue. The upshot? Hydrovacs in Ontario are facing increased regulation, although when it occurs, is anyone's guess. It could be 2016, or possibly, the year after. The point is, it's coming.
For MTS and Ox Equipment, that represents an opportunity for Dryvac trucks which, by their design, are not required to bear the same loads as hydrovacs. As Jaspers explains, it all comes down to load disposal.
With a hydrovac, once the tank reaches full capacity, the operator only has one option: to dump it at a dumpsite. Once the truck is fully loaded, it must stop working, get on the road and travel to the dumpsite, and then travel back to the job for another load. The whole process is unproductive, because a truck and driver are taken off the job for however long it takes the truck to dump its load. Hydroexcavation work stops until the truck returns, or another unit is slotted in.
"The industry now is running on this idea that hydrovacs are not only diggers, they are transporters. Once you're full you go to a dumpsite. Depending on the dumpsite, location, and traffic the whole process could take up to three hours. This isn't really an efficient use of resources," says Jaspers.
A Dryvac truck doesn't face the same use restrictions. Because air rather than water is used to excavate, no slurry is created, making payloads smaller, lighter and more manageable.
With a Dryvac, the payload can be transferred to a dump truck – one that is rated to travel on the highway with the load – or into a roll-off bin. The dry material can also be piled on the site for later pick-up and disposal. Or used for site restoration. The Dryvac can then return to work, without ever leaving the jobsite.
"Because you have those options it makes them very, very versatile," says Jaspers.
Dryvacs can perform most of the same applications as hydrovacs – including potholing, vacuuming contaminated soils and removing sewage sludge. They are particularly well suited to cleanup sites with light, fine material. Keeping this material dry makes it easier to manage at disposal.
But what about their cost? While Jaspers didn't want to get into a sticker price comparison of hydrovacs versus Dryvacs, he would say that according to his calculations, the per-hole cost of a Dryvac is about 25 percent cheaper than a hydrovac. The savings come from the fact that the contractor does not have to pay disposal fees, or shell out for backfill and transportation costs. There may also be labour cost savings, if the job can be completed faster than a hydrovac.
Jaspers quotes a study out of Australia which said that Dryvacs are four times faster than hydrovacs. The reason? Air power. While both hydrovacs and Dryvacs have air suction capabilities, a Dryvac is a lot more powerful: the trucks offered by Ox Equipment start at 20,000 cfm, compared to 4,000 to 6,000 cfm for hydrovacs. The suction is powerful enough to pull up the debris, but gentle so as to prevent damage to utilities or cabling.
Of course, pitting a hydrovac versus a Dryvac makes for some interesting comparisons, but in the real world, a contractor may use both, depending on the application, soil conditions, etc. The point is not to say that one technology is better than the other, but rather, that having a Dryvac or two in the hydrovac fleet broadens the options available to service companies.
"Once people see them digging and understand the benefits that are out there for really managing the debris and being able to dump on site, they're going to see these things are worth it," says Jaspers. "They're a fantastic complement to the hydrovac industry." CUI