LMK distributes, maintains and services Schwalm Robotics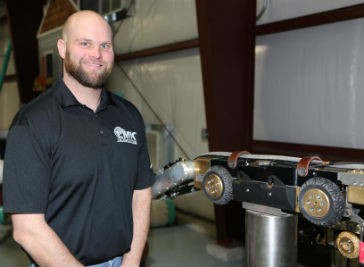 LMK Technologies is proud to be one of the North American distributors for Schwalm Robotics, the premier robotic system for use in trenchless sewer rehabilitation. For 8 years, LMK has been selling, servicing and maintaining Schwalm robots from its Ottawa, Illinois corporate headquarters.
With over 80 robots in service in North America, the Schwalm robotic system and components are considered to be one of the most versatile robot systems in the industry. Recently, Kenny Cochrane, LMK Robot Specialist, moved to Greenville, SC to open Schwalm USA in order to establish a North American arm of Germany-based Schwalm Robotics.
The German engineered Schwalm robots can significantly save time when compared to traditional winch-in-place robotic cutter systems and are not only faster and extremely more efficient, but the capability of the robots has advanced the pipe renovation industry in North America to a level that offers truly trenchless options that until now were simply unavailable. They effectively and completely reinstate sewer service lateral connections from one manhole access point at one time and the remotely operated cutting tools are engineered to remove protruding taps, clean, trim offset joints and cut open CIPP turnbacks. These robots have also been purchased specifically for use in potable water lines and have shown positive results.
The Talpa 1330 robot operates in 6 inch to 12 inch lined pipes, while the Talpa 2060 operates in 8 inch to 24 inch lined pipes. Each robot is equipped with an interchangeable color, pan/tilt, zoom or focus camera and a lens washing device, ensuring that the operator has a clean, clear view of the work being performed. Each self-driven robot system can easily adapt to a mainline camera system which ultimately saves the buyer money.
Josh Morris, who is entering his third year at LMK, has assumed the position of Robot Specialist and is available 24/7 to troubleshoot and answer questions regarding repair and maintenance. Robots and robotic components can be serviced at LMK's Ottawa location with efficient turnaround service.
To learn more about Schwalm robots and components, please contact LMK at 815-640-9302.