CRS Tunnelling takes on unique project at Pearson Airport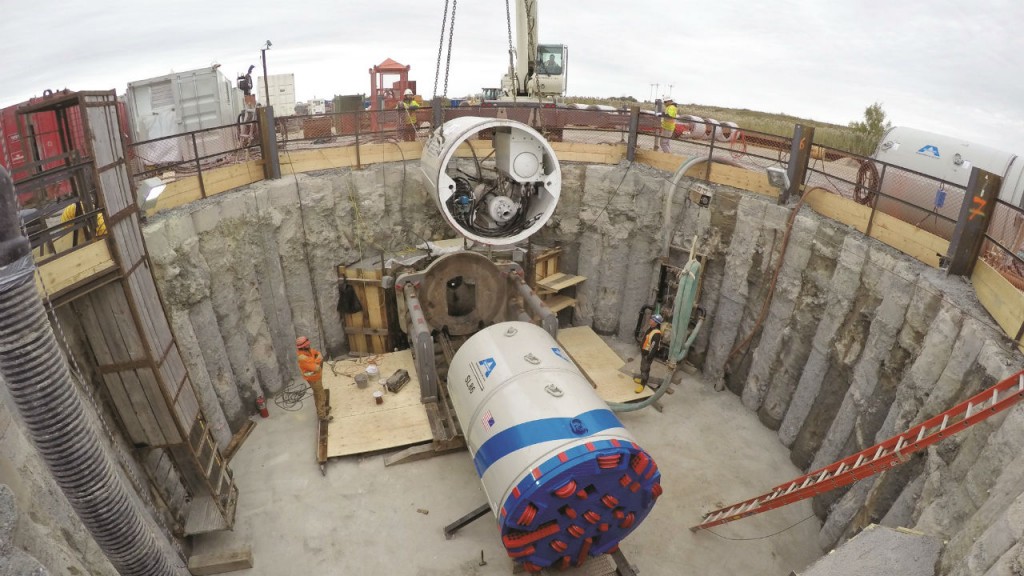 Most tunnelling contractors don't have to worry about planes landing on the ground above them. But that – and much more – made a recent sewer-twinning project carried out by Oakville, Ontario-based CRS Tunnelling much different from your average construction job.
CRS is the Canadian division of Super Excavators, a 66-year-old Milwaukee-based firm that focuses on tunnelling, micro-tunnelling, foundation work and open-cut construction. The project in question is the twinning of the Etobicoke Creek Trunk Sanitary Sewer, which passes through the grounds of Pearson International Airport – including 576 metres running below Runway 23, the airport's busiest airstrip, and two taxiways.
The general contractor on the $16.9-million project is a joint venture between CRS and Bolton, Ontario-based Dibco Underground. The companies formed the joint venture in 2013; this marks the fourth project it has taken on.
The runway section involved tunnelling in a straight line using a micro-tunnel boring machine (MTBM) that was custom designed for the job. CRS-Dibco launched the MTBM from a 6.8-metre-deep shaft at one end and retrieved it from a 13.9-metre shaft at the other. The joint venture constructed both shafts.
Behind the machine, workers installed and later grouted pipe with an internal diameter of 1.8 metres. With a line already existing under the runway (1.65 metres in diameter) the installation would effectively double this segment's capacity.
Different from the start
For CRS vice-president and general manager Walter Trisi, it was instantly clear that success would involve crisp co-operation between a number of subcontractors and regional and airport bodies.
These included the Greater Toronto Airports Authority (GTAA), the Region of Peel and Nav Canada (the national air-traffic control agency). On the private sector side, CRS-Dibco worked with engineering firm Hatch Mott MacDonald (HMM) and subcontractors such as Deep Foundations Canada Inc., which was responsible for shoring, Decast Ltd., a supplier of micro-tunnel pipe, and ASI Group, which was provided hyperbaric equipment (more on that below).
"There was a lot of paperwork," says Trisi. "We had to submit a document [an FAP, or facility alteration permit] upfront with extensive amounts of information that had to be analyzed and approved before we could even set foot on the job site."
With such a large number of players involved, the odd hiccup was inevitable. "The first day on the job was supposed to be in July 2015," says Trisi. "But it was delayed, as Nav Canada approval had not yet been granted. It seemed that when the project was put out for award, Nav Canada wasn't fully informed about the tunnel going underneath the runway, so there was a delay while we waited for Nav Canada approval."
Other above-ground challenges included the fact that the job couldn't disrupt airport operations, so surveying work to monitor settlement around the shafts and across the length of the tunnel had to be done from 2 a.m. to 6 a.m., when air traffic was light. The GTAA also required security to escort all vehicles to and from the job site and imposed height restrictions on all equipment, such as cranes and drilling rigs.
"You could only be, let's say, one metre high for every seven metres you were away from the runway or taxiway," says Trisi. "On the launch side, because it was in a lower area, Deep Foundations was able to bring in a low-mast rig, but on the retrieval side, we couldn't find a rig that would fit in the envelope we were given, so we had to change the shaft design."
An MTBM like no other
Other requirements involved the MTBM, an Akkerman SL86 model with about 2.2 metres of cut diameter and 400 horsepower to the cutter head. Disposal was handled by a slurry system, in which clay and soil were pumped out of the tunnel and separated. The clean water was then pumped back into the MTBM's cutting area.
"The geology was mostly silt, clay silt and shale. It was a challenge, but it wasn't anything the machine couldn't handle. We were very happy with the MTBM's performance." Walter Tresi, CRS Vice-President and General Manager
For one, HMM required the MTBM to have face access, so workers could get into the cutting area while underground. What's more, in case there was significant pressure in front of the machine when the cutting area needed to be accessed, hyperbaric equipment – essentially an airlock – had to be added. That allowed an intervention to happen without pressure loss in the chamber, which could lead to settlement of the runway.
"In the end, the hyperbaric gear wasn't used, but we did have it on-site, tested, inspected and ready to go," says Trisi.
It all added up to a number of firsts for an Akkerman MTBM, according to Trisi: the first with face access and a hyperbaric system, as well as the first with a peripheral drive – where the motors are positioned near the outside of the machine, leaving the centre open for access to the cutting-head chamber.
The tunnel drive started on October 27, 2015. CRS-Dibco mined day and night for 37 days, breaking through on December 3. The best shift saw the joint venture jack six pipes, with each one being 2.4 metres long, for a total distance of 14.4 metres.
"The geology was mostly sandy silt, clay silt and shale," says Trisi. "So it was kind of a mixed ground type condition, and there was some water pressure there. So it was a challenge, but it wasn't anything the machine couldn't handle. We were very happy with the MTBM's performance."
A team effort
Despite the challenges of working in such a busy, tightly regulated space, Trisi was impressed with how well all the groups involved worked together.
"The collaboration really was seamless," he says. "All of the parties involved really came to the table, whether it was the GTAA staff, Hatch Mott MacDonald or the Region of Peel, to ensure we were successful on this job." CUI