How trenchless technologies are helping municipalities get set for a low-carbon future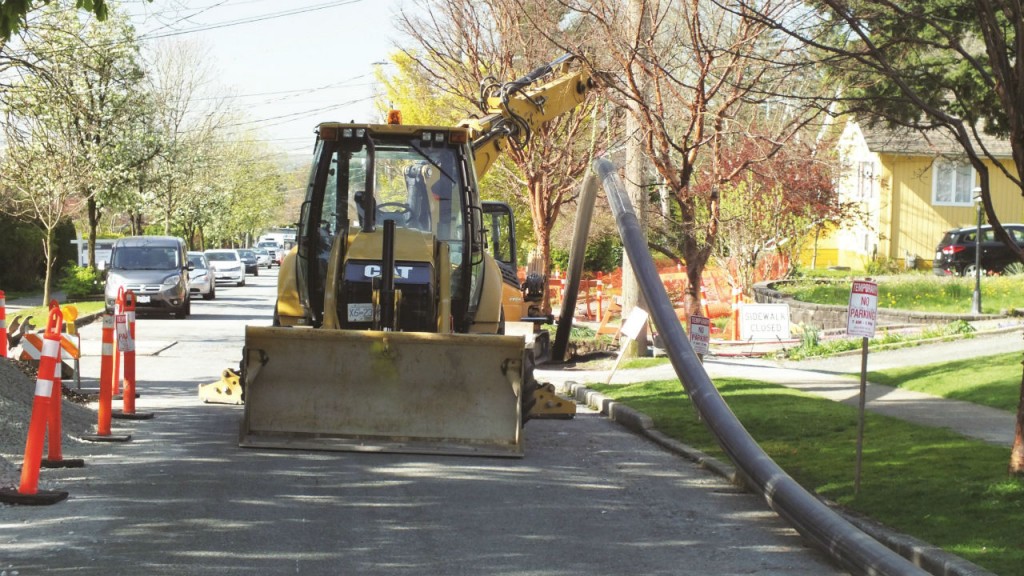 It's no secret that trenchless technologies can offer big cost savings over open-cut excavation. What gets less play is how skipping the big dig can pay off in lower greenhouse gas (GHG) emissions, too.
But that's changing, according to two presentations at the Trenchless Technology Road Show, held November 17-19 in Vancouver, as governments set stricter GHG reduction targets and develop better systems for tracking emissions.
"British Columbia is working hard right now," said David O'Sullivan, president of PW Trenchless Construction Inc. "All of the municipalities have to be carbon neutral in their day-to-day operations, and the province has been carbon neutral since 2010. So it is here, and we're trying to see how we can help trenchless help cities and government bodies increase their carbon-reduction strategies."
Tougher GHG requirements come as Canada faces a $31-billion bill over the next 20 years to replace aging water and waste water systems alone, according to the Federation of Canadian Municipalities. What's more, when most of these utilities were installed, they were next to two-lane roads that have grown into bustling thoroughfares.
"Now we're tasked with replacing all that infrastructure. Can we dig the streets up any more to do it? We can, and we do, but it causes horrendous traffic problems, and it's a very expensive way of doing things, as well," said O'Sullivan.
The three Rs revisited
So just how do trenchless technologies help cut GHG emissions? For Shaun McKaigue, CEO of FER-PAL Infrastructure, it comes back to the three Rs: reduce, reuse, recycle.
"When that pipe went into the ground 50, 100 years ago, whenever it was, there were a lot of GHGs emitted to put it in the ground, so let's not only think about reducing our own greenhouse gases, but let's reuse the ones someone else already spent," he said. "What we're really doing is trying to reuse the hole someone already put there."
The GHG savings such an approach can yield are impressive: according to a 2007 report from the Centre for the Advancement of Trenchless Technologies at the University of Waterloo, trenchless pipe-repair methods deliver upwards of 78 percent lower GHG emissions when compared to open cut.
"The reduction in emissions associated with trenchless construction are achieved mainly due to its shorter job duration using less construction equipment and limited or no disruption to traffic flow," reads the report.
Small moves add up
McKaigue's presentation backed up these findings, particularly when it came to the speed of using cured-in-place pipe (CIPP): "A four-man lining crew can install 300 metres of lining in a day without much trouble," he said. "With open-cut excavation, you're never going to do 300 metres, especially in an urban environment."
"As well, that 300 metres gets folded up," he added. "Say we're doing 250-metre runs. That liner is folded into a box four feet by four feet by four feet high. We can carry within our trailer enough lining for an entire week. Try cramming 1,000 metres of pipe on one truck. It doesn't work."
Truckloads are a big factor when comparing open cut and trenchless on both a GHG and cost basis, particularly when it comes to removing fill from the job site. Last year, for example, McKaigue said FERPAC completed a job in which it replaced 980 metres of pipe using CIPP. As a result, it needed just 76 truckloads to remove fill vs. an estimated 864 for open cut.
"That just drives home the point that there is a huge saving just in the amount of money it takes to remove the material," said McKaigue.
It's not just big things, like the amount of fuel burned by construction equipment, that make a difference, he said. There are plenty of smaller steps that can make CIPP even more environmentally friendly, like using recycled asphalt, locally sourced lumber and reusable pipe to provide temporary service to homeowners while the main repair is being carried out.
"Every one of these steps are incremental, but I think they add up," he said.
Getting the numbers right
Tougher GHG reduction goals also mean it's no longer enough to simply claim that technologies like CIPP are a "green" alternative. Municipalities increasingly have to show their work.
That's where a new carbon calculator developed by B.C.-based Strategic Carbon Management, in collaboration with the B.C. chapter of the North American Society for Trenchless Technology (NASTT-BC), PW Trenchless and Metro Vancouver, comes in.
The system lets municipalities calculate carbon savings by comparing trenchless jobs with similar open-cut scenarios. The goal is to use GHG reductions from their trenchless programs to offset emissions from their day-to-day operations.
"This tool is user-friendly. It doesn't take technical knowledge to use it," said Mahbod Rouhany, president of Strategic Carbon Management. "It has many default values, and it's very transparent."
Using data inputted by the user, the system – which is free to use and adaptable for use outside B.C. (and Canada) – estimates excavation volumes and durations, as well as emissions from trucks and other machinery. It then compares this data with a similar open-cut scenario and shows the savings in both raw tonnes of GHG and on a percentage basis.
The calculator covers 12 different trenchless technologies, including CIPP, pipe bursting, pipe jacking, horizontal directional drilling and sewage lining. "There is no other tool existing that has this many technologies and, I would dare say, this level of rigour and detail," said Rouhany.
The system has been submitted to the province for validation. Rouhany hopes to have it ready in time for all local governments in Metro Vancouver to report their 2016 emissions. CUI
Related Articles
As one of the latest models in the R2-Series excavator lineup, the Bobcat® E88 delivers durability, performance and quality for more productivity. Technically speaking, it's a compact machine, but it brings big performance with its redesigned engine and optimized lift performance, plus undercarriage and counterweight improvements. All these enhancements make this excavator one of the highest-performing models in its size class. With impressive over-the-side lift capacity, you can dig with greater confidence over the side of the machine. Put it to the test against similar models from other manufacturers. You'll see that the E88 can outwork the competition.