Quebec City storm water quelled with underground chamber system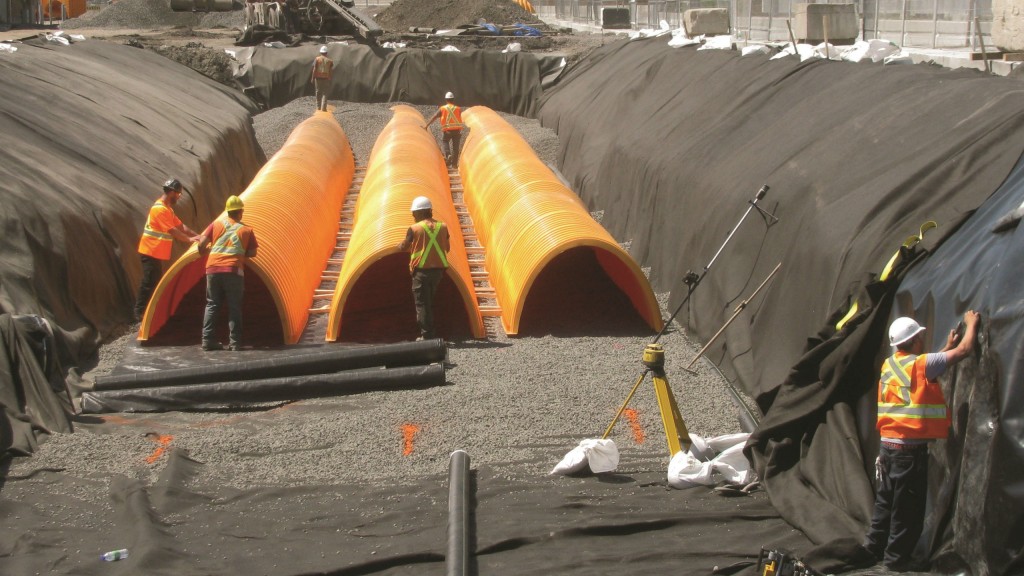 Engineers from SNC-Lavalin found the way to meet stringent storm water drainage regulations for a portion of the new Centre Vidéotron site by designing two underground retention systems. Managing storm water runoff is a prime concern for Quebec City because the area is prone to flooding. The multipurpose, 18,000-seat arena, spread out over some 7.2 hectares (18 acres), opened in September 2015.
"Quebec City has a strict policy for regulating storm water runoff peak flows from impervious areas such as parking lots, sidewalks and roads," explained Jason-Faber Carpenter, a project engineer for SNC-Lavalin, Inc. (Quebec City).
"They actually consider that you cannot release into waterways or existing storm water sewers above 50 litres a second per hectare. So when you combine that with major rain events and the impervious areas around the Centre that includes parking lots with hundreds and hundreds of spots, you need to be able to retain all the storm water runoff. That is why two StormTech systems were installed as retention structures for the storm water runoff. Each is designed to retain a 100-year storm event for a certain period while respecting the maximal outflow."
One system with 80 StormTech MC- 3500 Chambers was installed 3.11 metres deep under the 230-spot, one hectare parking lot that provides a volume of retention of 475 cubic metres (16,774 cubic feet). The other with a volume of retention of 610 cubic metres was constructed with 102 StormTech MC-3500 Chambers to handle runoff from the road and an adjacent rooftop and installed 3.48 metres under an access road used to drop off and pick up spectators. Each StormTech MC-3500 Chamber, without endcaps, measures 2,286 mm long x 1,956 mm wide x 1,143 mm high and has an installed volume of 5.06 cubic metres of water. The outflow manhole has a passive flow regulator.
Installed in July 2015 by Enterprises P.E.B. Ltd., (Quebec), the smaller system took two days with four men, one excavator, one loader and one slinger. The same team and equipment installed the larger one during four days.
"An alternative to these underground detention systems would be, if there was the necessary space, a pond," said Carpenter. "In this case the Centre was built in a densely populated area and it needed to maximize the number of parking spaces, so the underground chamber system was the best possible solution to answer that requirement and the needs of Quebec City.
"In this case the Centre was built in a densely populated area and it needed to maximize the number of parking spaces, so the underground chamber system was the best solution to answer that requirement and the needs of Quebec City." Jason-Faber Carpenter, Project Engineer with SNC-LAVALIN
"Other underground alternatives would have been to use oversized storm water pipe to store the runoff or build a concrete reservoir. The oversized pipe wouldn't provide the same efficiency for volume of retention for the area, and the cost of a concrete reservoir would be much more than the StormTech system plus the building time for concrete reservoirs is not comparable to a StormTech chambers system."
Providing large storage volume per square foot of land area, StormTech chambers are designed in accordance with AASHTO, ASTM and CSA design standards, qualifying them for use in commercial and municipal projects. The chambers are rated by ADS for a 75-year service life and CSA for 50 years in CSA B184.0. The chambers MC-3500 are certified to CSA B184.2 and each chamber is individually stamped by Intertek with the marking CSA B184.2
"The practicality of a subsurface unit is being embraced more and more by engineers, urban planners and architects," observed Bob Klein, executive vice president of sales for ADS. "It saves valuable space, improves land use, provides a means to meet environmental regulations, and is a long-life, easy-to-install solution that is also a highly cost-effective method for controlling storm water.
"By putting the systems under the parking lot, for example, you gain parking space, which is a benefit for any building," he said. "This is especially true for the Centre because it is in an area where land is at a premium, so there's definitely an advantage of being able to have additional parking by putting the retention systems underneath the lot. Otherwise they probably would have had a pond, which is not a wise use of land or good environmental stewardship."
For separation and to trap suspended solids, two Downstream Defender 3000 units with a 3,000 mm diameter were installed on each bed. According to Carpenter, the Downstream Defender is currently only one of two oil and grit separator units approved in the City of Québec.

"The unit, unlike others, can receive several inlets, usually an oil and grit separator can only receive one inlet, which saved an upstream manhole on each system," he said.
Water stays in the chambers for a few hours until it's released through a storm water pipe system that was built during the past few years for the Centre, and released into a large interceptor built in the 1930's and is approximately 3.6 metres in diameter and six to eight metres deep. Water is released from there into the St. Charles River.
The systems are watertight and wrapped in a geomembrane. "The soil in the area is mostly clay," Carpenter continued, "and doesn't let water infiltrate very easily, plus you're surrounded by buildings, so we didn't want to release too much water into the surrounding soil and permit it to find a preferred path through the soil to the buildings' foundations."
Limiting the flow
Quebec City is crossed by many rivers and has had major floods during the past few years damaging hundreds of houses and buildings.
"Rain control and storm water management are major concerns in Quebec City," Carpenter said. "We are trying to reduce the severity of floods and overflow while there are more and more houses being built around Quebec City adding to the scope of impervious pavement. So the city wants to reduce as much as possible the flood problems in these areas and passed a law that storm water output flows must be reduced. One solution is to limit the amount of runoff that is released into these rivers. The St. Charles River is about a kilometre away from Centre Vidéotron, and we wanted to make sure to stem the flow of water into it. You really don't want that one to flood. That is why we built the system to retain even a 100-year rain event." ADS