McLaughlin introduces ECO Series of truck mounted vacuum excavators for utility market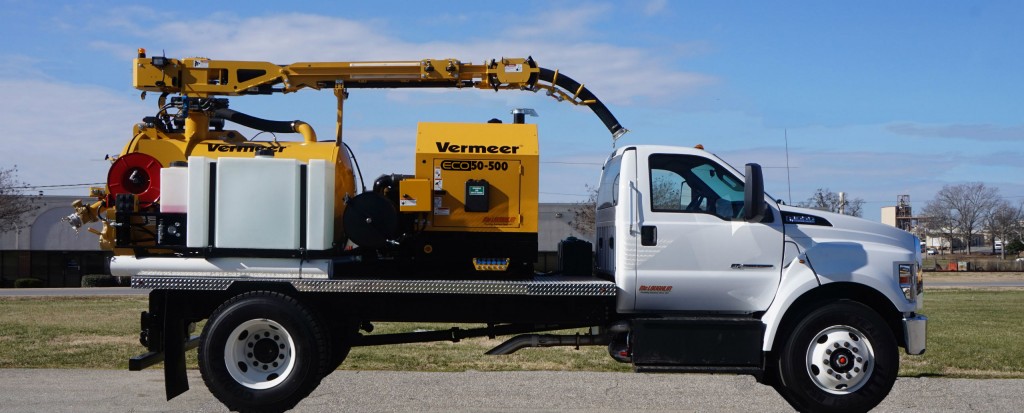 McLaughlin has introduced the new ECO truck-mounted vacuum excavator series to answer the market's demand for a compact vacuum excavation system that focuses on performance and improved fuel efficiency. Powered by 49, 85 or 99 horsepower (37, 63 or 74 kW) auxiliary engines, ECO Series vacuum excavators offer utility contractors fuel economy, lower operating costs and reduced maintenance. With the ability to choose from 500- to 1200-gallon (1892.7 to 3028.3 L) spoil tank capacities ― and the ability to mount ECO Series units on both new and used truck chassis ― contractors can customize the truck vacuum excavator to their specific needs.
The 4-inch (10.2 cm) line of ECO truck vacuum excavators uses properly sized engines to power components and reduces excess fuel consumption that can occur when using a vacuum excavator powered by a 270-horsepower (201 kW) PTO-driven truck engine.
"Some jobs are going to require larger vacuum excavators with 6-inch (15.2 cm) and 8-inch (20.3 cm) suction hoses and, therefore, more horsepower — PTO-driven vacuums make more sense in those higher horsepower applications," said Jeff Wage, vice president at McLaughlin. "A 4-inch (10.2 cm) vacuum system can run off a 49-horsepower (37 kW) engine. A contractor using a 270-horsepower (201 kW) PTO-driven truck engine to power the 4-inch vacuum on a jobsite all day would waste fuel. By using an auxiliary engine package that is properly sized for urban jobsites, the ECO Series vacuum excavators offer both a small footprint and fuel economy."
According to Wage, many contractors consider daily, weekly and annual project operating costs over the life cycle of an equipment investment.
"The Kubota 49-hp (37 kW) engine in the ECO vacuum excavators burns 50 percent less fuel per hour than a 270-hp (201 kW) diesel truck engine," said Wage. "The Kubota 49-hp engine burns 2.75 gallons of fuel per hour as opposed to 6 gallons per hour with a 270 hp diesel truck engine. If gas is $2.00 per gallon, that's a cost savings of $6.50 per hour. If an operator runs a vacuum excavator truck for 40 hours a week, that can mean up to $13,000 in annual fuel savings."
Contractors can choose between three ECO Series size options:
ECO50 Series truck mounted vacuum excavators are designed for production potholing capabilities with a 1025 cfm (29 m³/min) 15-inch (38.1 cm) mercury blower and 5.6 gpm (21.2 L/min) water pumps and come with hydraulic boom options. The ECO50- 500 is designed to fit on 14-foot (4.3 m) truck bed and mount on a 26,000 pound (11,793.4 kg) GVW truck chassis.

The ECO80 Series, with an 85-horsepower (63 kW) diesel engine, is designed to power a sewer jetter option with 12 GPM (45.4 L/min) water system and 500-foot (152.4 m) hose reel or a hydraulically powered compact core saw attachment. The ECO80 is designed to fit on a 16-foot (4.9 m) truck bed and mount on a 33,000 pound (14,968.6 kg) GVW truck chassis.

ECO100 Series, with a 99-horsepower (74 kW) diesel engine, is designed as an air-water vacuum excavator package and runs an upsized 1200 cfm (34 m³/min) vacuum blower with the 5.6 gpm (21.2 L/min) water pump. The ECO100 is paired with a 110 psi x 185 cfm onboard air compressor allowing contractors to select hydro-excavation or dry excavation for their potholing applications.
The ECO Series includes two features McLaughlin customers have come to rely on. One is an industry-exclusive three-stage cyclonic filtration system that allows for both wet and dry vacuum excavation while prolonging filter life and helping to keep maintenance costs low. The other is the McLaughlin patented cam-over hydraulic rear door. It provides a 360-degree positive seal, even under reverse pressure, without additional clamping requirements to keep fluids securely in the debris tank. No components are inside the tank, so maintenance is external.
The ECO Series is available now through the Vermeer global dealer network.
Related Articles
As one of the latest models in the R2-Series excavator lineup, the Bobcat® E88 delivers durability, performance and quality for more productivity. Technically speaking, it's a compact machine, but it brings big performance with its redesigned engine and optimized lift performance, plus undercarriage and counterweight improvements. All these enhancements make this excavator one of the highest-performing models in its size class. With impressive over-the-side lift capacity, you can dig with greater confidence over the side of the machine. Put it to the test against similar models from other manufacturers. You'll see that the E88 can outwork the competition.