Six critical emergency response steps
GIS software minimizes impacts of disasters and emergencies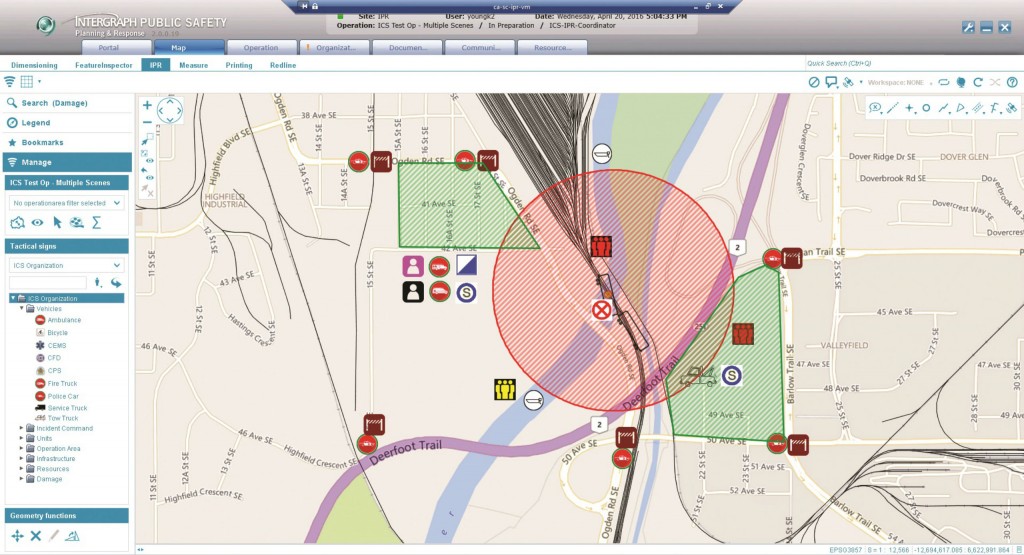 For many living in urban environments, mornings involve an alarm clock, a shower, a cup of coffee, and a commute of some sort – often including underground public transportation. However, while many are catching a subway on the way to work, not many understand how complex and vital their city's underground infrastructure is to their morning routine. That is, at least, until something goes wrong.
Underground infrastructure disruptions can put entire cities at a standstill and cost millions (if not billions) of dollars to fix. Alarmingly, there are a number of factors that make cities vulnerable to the broad spectrum of threats that can negatively impact the underground infrastructure that our 21st century economy depends upon.
Managing staffing, emergency response, and communication historically have been challenges that can result in massive loss of revenue – or even lives. Thankfully, technologies now exist that can help streamline these processes, ensuring a smooth transition between each step involved in the disaster recovery process.
Intergraph Planning & Response from Hexagon Safety & Infrastructure is a virtual emergency operations management system that does just that. By ensuring that existing plans, protocols and organizational structures which have not commonly been digitized are built into online software, it makes these essential plans accessible by all members of a response team, regardless of locations.
For many organizations responsible for the management and maintenance of underground infrastructure, emergency response planning is not just a good idea – it is a regulatory requirement. There are ways to improve efficiency and minimize impact by streamlining emergency services and communicating effectively and efficiently across the varying levels of the operating picture and chain of command.
There are typically six important steps taken to ensure an emergency situation is managed correctly. Often, the first and last of these steps are overlooked: planning information availability and documentation and reporting of the event after the fact.
What falls in between is the more visible, boots on the ground-style response activity that we are more likely to encounter when we observe a disaster response protocol take place.
With an effective technology-driven program, none of these important steps are overlooked.
1. Planning information availability
A strong emergency strategy is worthless if it is not made for those who need it, when they need it – which is why planning and creating a detailed emergency response framework ahead of time is so vital. The first step is to document an organization's emergency response framework and build those documents into templates or action plans. These can take the form of Word documents, images or uploaded text, and provide the foundation for an effective and actionable plan – consolidated into one, easily accessible and organized place enabled by a software solution.
2. Response activation
Response initiation time can be reduced through the simple ability to send, from a single platform, important correspondence like email and text messages to all applicable personnel identified within a defined action plan. Intergraph Planning & Response resolves this by quickly administering pre-planned tasks, roles and direction through its system as soon as it is activated. This automatically notifies and communicates tasks for the roles identified within the action plan placed on its system. For example, Intergraph Planning & Response can provide a quick and simple means to collectively activate a pre-planned organizational response for a pipeline control system supervisor that has identified an emergency situation requiring immediate attention.
3. Scene development and damage assessment
As details become available, an interactive visual representation of the disaster zone would enable emergency managers to map out the emergency response plan, strategically place responders and identify resources immediately available to them – while averting further issues and danger. Intergraph Planning & Response includes this component by providing a visual representation of information about the disaster zone. Its mapping interface allows customized symbols to be placed on site maps, along hazard areas, evacuation zones, and supply locations – both in the emergency and disaster planning phases and in real-time during an emergency scenario. Further, ensuring response team members can share photos and video of damaged sites provides – in real time – the visual information needed to increase communications and minimize risk.
4. Resource management
Access to resources is a crucial step in the emergency response process, as they provide the tools emergency responders need to make quick decisions and take action to resolve a disaster before it escalates. Intergraph Planning & Response includes interfaces and tools for managing resources throughout an emergency response. Organization and timeline modules facilitate the preparation and active management of resources required to handle any particular emergency situation, whether it be persons, equipment, and/or supplies. Intergraph Planning & Response supports the integration of equipment catalogs and procurement chains, as well as human resource skills and training documents, through either an alternate system or through a local copy reference.
5. Communication and task tracking
Ensuring the safety of all people involved or affected in an emergency situation is priority number one, and communication is a key component to this. In an underground infrastructure emergency, particularly in populated areas, the first step is to identify where potential hazards are concentrated, and establish the applicable hazard zone distances required to control or isolate access to the unsafe environment (including necessary evacuation or shelter-in-place orders). Once these have been identified, communications protocol should be implemented as quickly as possible. Ongoing monitoring and updating of the emergency situation status is simple through the Intergraph system, which also facilitates, documents and updates communications activities in real time.
6. Documentation and reporting
Finally, documentation and reporting about the emergency situation, both during the response and after (for both internal learning and auditing purposes) is an important but often overlooked step.
A single, streamlined digital platform provides the peace of mind that all documents, and subsequent communications and actions, are captured within one location. This allows an emergency manager to focus on resolving the emergency situation at hand, rather than agonizing over the documentation process.
As all information is captured in a single location like Intergraph Planning & Response, the emergency manager can return to all captured details to develop an event report.
By managing an emergency from a single platform, issues are handled faster and with fewer residual incidences that can cause more damage or harm to urban infrastructure, residents and the responders addressing the situation.
While many of those who live in urban environments may know little about the inner workings of the underground infrastructure that help them through their daily routines, streamlining the emergency response process will ensure their daily lives are minimally impacted by the next unexpected event.
Hexagon Safety & Infrastructure Kevin Young is a solution consultant with Hexagon Safety & Infrastructure in Canada.
Related Articles
As one of the latest models in the R2-Series excavator lineup, the Bobcat® E88 delivers durability, performance and quality for more productivity. Technically speaking, it's a compact machine, but it brings big performance with its redesigned engine and optimized lift performance, plus undercarriage and counterweight improvements. All these enhancements make this excavator one of the highest-performing models in its size class. With impressive over-the-side lift capacity, you can dig with greater confidence over the side of the machine. Put it to the test against similar models from other manufacturers. You'll see that the E88 can outwork the competition.