Wacker Neuson introduces light towers that are the perfect fit for any job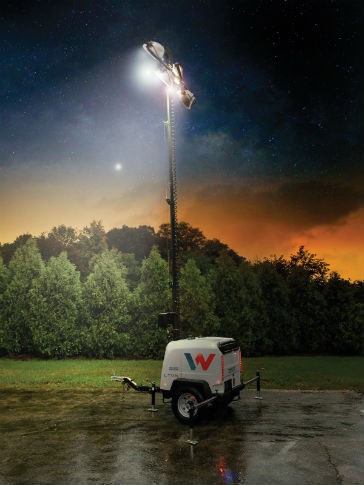 Wacker Neuson's new line of light towers offer big benefits in a smaller package. The LTV series features a compact-body design and vertical mast that allows for more units to be transported on a single trailer; 18 units will fit on a 48 foot flatbed truck. But don't let the size fool you. These light towers are designed for long hours of lighting and industry leading 750 hour service intervals. The LTVs provide plenty of light for general job sites, site prep, concrete pours, special events, parking lots and road/bridge work.
Designed for productivity, versatility and convenience, the LTV6 and LTV8 models can be set up quickly and run for more than 95 hours of lighting time due to the 45 gallon fuel tank. The adjustable vertical mast extends 23 feet and can rotate 360 degrees for optimum lighting flexibility. The ground level mast rotator provides for faster light positioning.
Three models are available. The LTV6 is offered with the choice of a 12.2 horsepower Kohler engine or a 13.1 horsepower Kubota engine. Both units are available with an industry-leading 6 kW Mecc Alte generator. The LTV8 is powered by a 15.4 horsepower Kubota engine and has a Mecc Alte 8 kW generator. Leading the way for more time on the job, service intervals for Wacker Neuson's light towers is extended to 750 hours, optimizing performance and lowering the total cost of ownership. When the machines are ready for service, it's fast and straightforward with easy access to all service components, including the ballasts that are located in the control box.
The LTVs are stable. When the mast is fully extended, the units can withstand winds up to 65 mph. The wheel base remains wide to provide stability needed for towing. But, lower the mast, fold up the tongue and these LTVs transform into a compact package for transportation and storage. The LTVs are the perfect fit to optimize deployment to job sites and take up less space while in storage or during operation.
Additional benefits for the Wacker Neuson LTV series includes a DOT approved trailer with 13-inch tires. Forklift pockets and a central lifting eye provides for multiple lifting options. The Kubota powered models offer an optional auto start for increased fleet startup management. Manual double handle or electric winch options are available.