Contractor solves culvert replacement with rental of HammerHead pipe bursting tools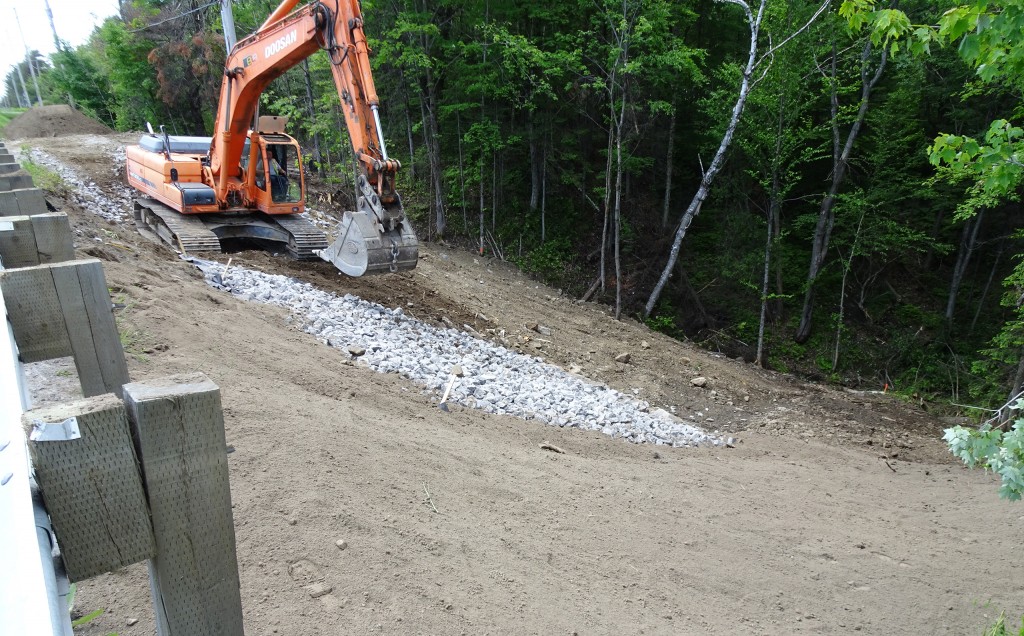 Two culverts on Highway 125 near Sainte-Julienne, 45 miles north of Montreal, Quebec, had failed almost entirely. Dirt and sediment accumulations had obstructed more than three-quarters of their flow capacity. Water seepage and pooling was jeopardizing the highway substructure's integrity.
Open-cut replacement was out of the question, since digging up the pipes would require blocking off well over half a mile of roadway.

The culverts lay 230 feet apart and 33 feet deep in a narrow, steeply inclined roadbed substructure with a creek on both sides.

Quebec's Ministry of Transportation (MTQ) believed detouring traffic to other routes was an unacceptable socio-economic encumbrance. The location's geography did not permit room to make a temporary roadway around construction activity.

In June of 2016, MTQ contracted Loiselle Excavation to replace the culverts using the pipe bursting method. Loiselle is a regional contractor based in Salaberry-de-Valleyfield, Quebec, that has performed maintenance on many of the MTQ culverts. Loiselle has approximately five years' experience in the pipe bursting technique.

For this project, Loiselle rented HammerHead Trenchless Equipment pipe bursting tools through HDDPlus Inc. of Les Cedres, Quebec. HammerHead Trenchless provided onsite consultation during the job.

Culverts get upsized
The first culvert required upsizing the existing 98-foot-long, 24-inch-diameter concrete pipe with 28-inch IPS HDPE pipe. The second culvert, a 140-foot-long, 28-inch-diameter concrete pipe was to be upsized to 32-inch IPS HDPE pipe.

Originally installed in an open cut, the existing culverts had been laid over dense, tight clay in compacted backfill prior to construction and subsequent paving of the overlying roadway. Although not a concrete encasement, a concrete apron was poured at the base and on the sides of the concrete pipe at both ends.

Eric Robataille, project engineer for this job and Loiselle's Director of Drilling, HDD division, said access to the culverts was a challenge. MTQ permitted only a narrow easement to use for an access ramp to the culverts to minimize construction activity's impact on the landscape and habitat, one lane of the roadway had to be kept open to traffic at all times, and tree removal in the thickly wooded terrain close to the road was prohibited.

Loiselle moved onto the site once the access ramp was ready. Robataille said as they fused up the sections of pipe, the crew was able to thread the HDPE through the trees to the run's total length without disturbing them at all.

For the bursting operation Loiselle used a 24-inch HammerHead Trenchless Equipment pipe bursting tool and 20-ton winch.

The pipe bursting tool's rated maximum operating compressed air requirements of 1,700 cfm at 110 psi were supplied by portable compressors ganged through a single manifold. Robataille said full power from the pneumatic hammer was never required during either culvert's bursting operation.

Temporarily enlarging the pipe path using an appropriately oversized bursting head decreases drag on the product pipe during placement. For the 28-inch HDPE upsize, Loiselle used a 32-inch head. For the 32-inch upsize, Loiselle used a 34-inch bursting head.

In addition to the primary bursting force supplied by the 24-inch pneumatic hammer, Loiselle used a 20-ton HydroGuide HG20 winch from HammerHead to provide a constant forward tension on the pneumatic hammer. This maximized forward progress of the bursting head, hammer and product pipe by preventing swim.

The steep incline and limited access meant Loiselle had to clean the area around the winch side of the culvert to build a platform above a shoring box, ensuring a solid base for pulling operations. Loiselle paid out the winch's cable through the culvert, attaching it to the bursting tool at the other end of the pipe.

Although the winch is capable of 20 tons, Robataille said they applied only 10 to 12 tons of constant tension, which was directly in line with the bursting tool's progress throughout the bursting run.

Although time at each bursting site was two to three days, the pipe bursting operations took less than two hours each from start to finish.

Robataille said, "The feedback we received from MTQ officials was all good."

The entire operation was completed in less than two weeks in spite of rains that caused interruptions of the project. Few trees were removed during the operation, and those few only to accommodate an access ramp to the culvert.

At least one lane of highway was open at all times, minimizing disruption to traffic. Time to complete the pipe bursting operation, discounting access construction and restoration, was six days.

Since the successful demonstration of the technique at this location, other projects have already been identified for the 24-inch pipe bursting tool's use. Loiselle estimates that perhaps only 10 percent of culvert replacement is currently being done in Canada using pipe bursting, due in large part to unfamiliarity with the process and equipment.

"I believe pipe bursting will be useful on up to 25 percent of the jobs coming up," he said.

With an MTQ goal of 50,000 feet of culverts identified under its current infrastructure renovation initiative, it means specification of pipe bursting for MTQ culvert replacement is likely to become much more prevalent in the near future.