Gradall XL 4300 V excavator features a low profile and compact boom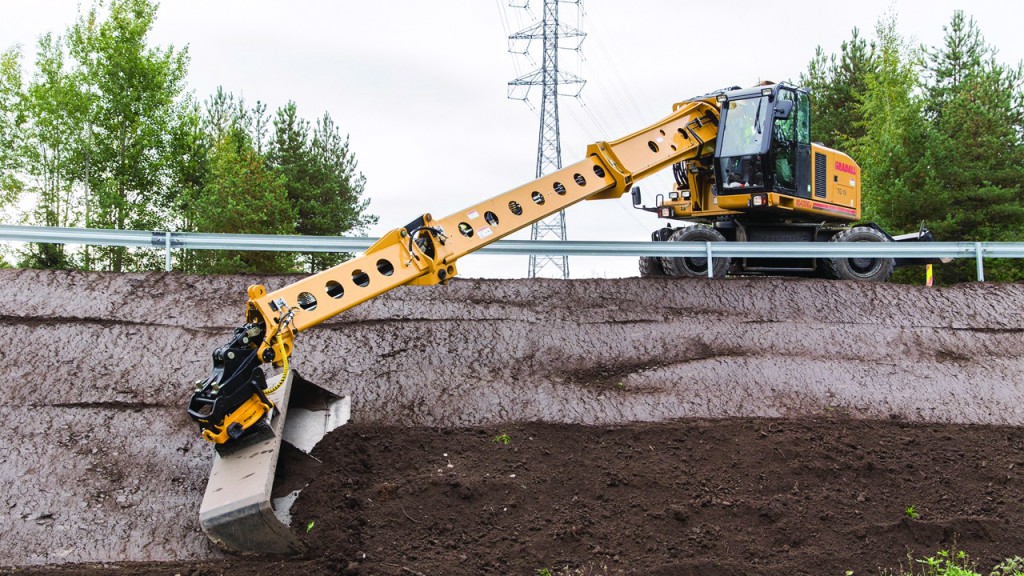 Weighing 43,580 pounds (19,768 kg), the XL 4300 V has a 4 x 4 wheeled undercarriage that can be driven up to 20 mph both on and off pavement. The exclusive design allows the XL 4300 to work at the front, rear or either side of the machine without the need to lower its optional outriggers or optional grading blade for extra stability.
The Gradall telescoping, full-tilting boom can precisely position buckets, hammers, grapples, shears and other attachments without losing power – an advantage over conventional models with boom-end tilting mechanisms. A short tail swing allows the big machine to work in tight spaces and along highways with minimal traffic interruption. A host of attachments is available.

It has a maximum reach of 30 feet 4 inches (9.2 m) at grade and a maximum dig depth of 21 feet 3 inches (8.5 m). Its rated bucket breakout force is 25,405 pounds (113 kN) and the rated boom force is 22,075 pounds (98.2 kN).

XL 4300 V features a new Tier 4 Final Volvo Penta diesel engine, full-time 4-wheel drive and wet-disc brakes.
Company info
Related products