Doka delivers complex custom formwork solution for Ontario sewer project
Each custom formwork element was highly complex, different in shape and size, and had to be hand built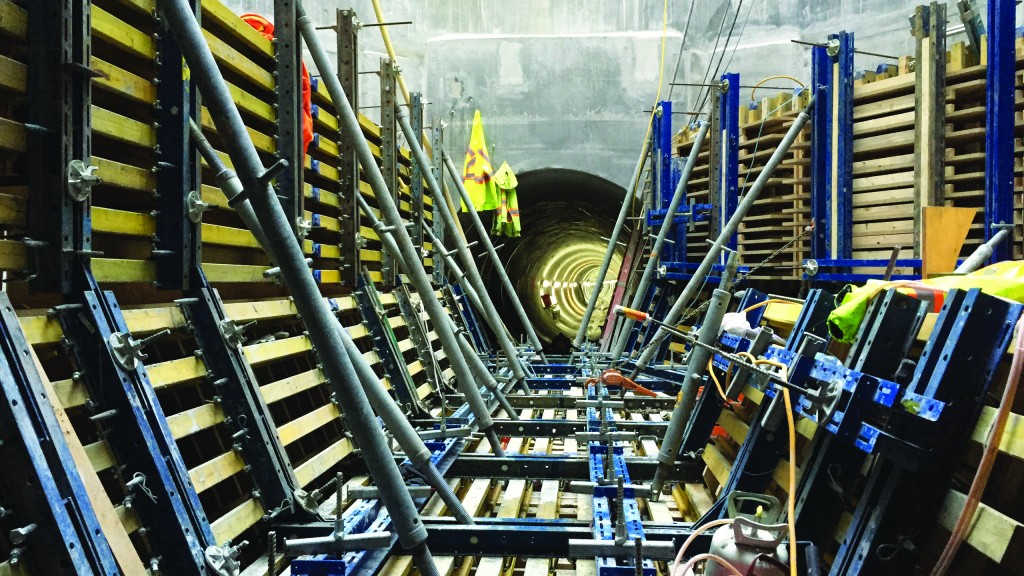 The Markham/Pickering area of southern Ontario, east of Toronto, has been growing steadily, and is expected to continue that growth in coming years. Greater population and the development needed to serve those increasing numbers will strain the current sanitary sewer resources.

To help offset that growth, a trunk sewer was designed to carry additional flows projected from that growth.

The new Southeast Collector (SEC) Trunk Sewer is approximately 14 kilometres in length, and will be constructed at depths of 5 to 40 metres below the ground surface. The goal of the project is to carry 100 percent of the sanitary sewer flows projected from future growth through 2036.

A major challenge was to ensure that the pipeline stayed within the Newmarket Till soil stratum, which is more conducive material for tunnel construction. To do so, a substantial drop in elevation of the pipeline over its length was needed. The use of an Earth Pressure Balance tunnel boring machine allowed for different modes of operation to accommodate the changing soil conditions.

Doka, which has extensive expertise in 3-D engineering design and custom-built formwork solutions, supplied the custom benching formwork for 13 ventilation shafts in total, with depths between 10 and 60 metres. Strabag, the contractor, relied on Doka to meet extremely tight project deadlines and to deliver high-quality custom-built formwork panels ready to use on site.

The custom formwork panels allowed Strabag to pour the U-shaped benching at the bottom of each ventilation shaft connecting the newly drilled tunnel openings with each other.

These custom formwork panels were based on Doka's large-area formwork Top 50, including wooden gussets and custom splices. Each custom formwork element was highly complex and different in shape and size, but Doka's Toronto pre-assembly team provided the needed pieces. Every formwork element was hand-built and assembled to the highest possible standards, the company stated.

Doka's custom formwork panels were epoxy-coated during the assembly process to achieve the concrete finish required by the town of Markham.

Doka's local engineering department, together with the Competence Centre in Austria, played a key role in successfully designing the challenging formwork solution for Strabag.