Epiroc ER 1500 Drum Cutter for 20- to 40-ton carriers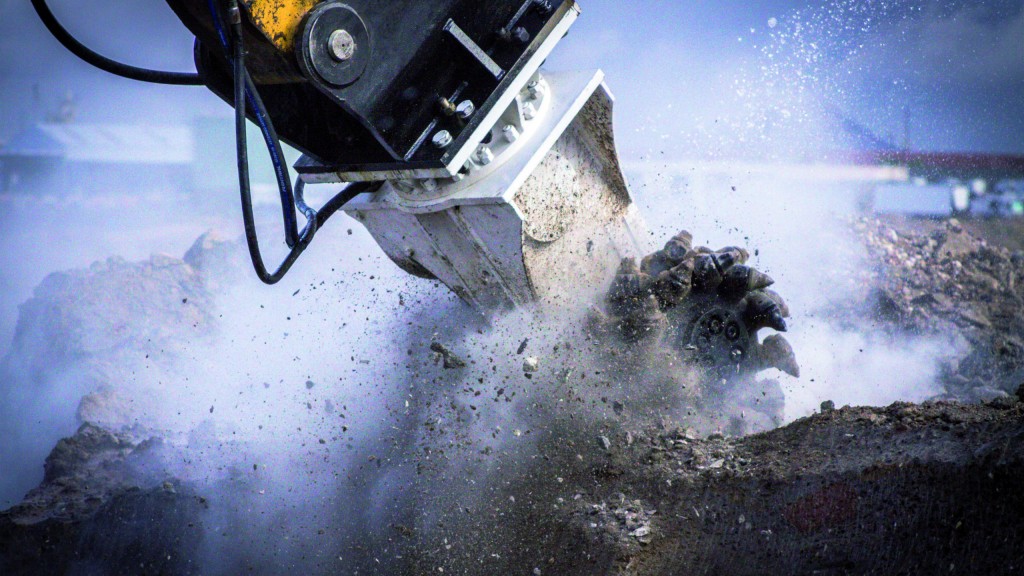 Epiroc AB, a subsidiary of Atlas Copco Group, has introduced the ER 1500 Drum Cutter excavator attachment at World of Concrete. The powerful transverse drum cutter is ideal for tunnelling, special foundation work, demolition and soil mixing, and features an integrated dust suppression system to help maximize safety and help to achieve OSHA silica dust regulations.
At a service weight of 3,858 pounds (1,750 kilograms), the ER 1500 double-head machine is suitable for carriers of 44,000 to 88,000 pounds (20 to 40 tons). It offers:
• Rated power of 160 hp (120 kW).
• Cutting force of 9,100 to 15,700 lbf (40.6–69.9 kN) at 5,000 psi (350 bar).
• A standard cutting head width of 35 inches (880 mm).
• 44 tungsten carbide–tipped picks.
"The ER 1500 is designed for maximum efficiency to help our customers increase productivity and lower costs," said Rich Elliott, Epiroc product manager – Hydraulic Attachments. "In addition, we've integrated a simple and efficient dust control system that promotes operator safety and regulatory compliance."
Features that make the ER 1500 reliable, long-lasting and low-maintenance include a highly efficient, powerful and robust drivetrain, secure attachment of cutter drums, rigid and wear-resistant gear housing as well as pick boxes with hardened wear sleeves.
ER 1500 cutter heads are designed to provide optimum cutting power at the recommended rotation speed of 75 rpm. They ensure a smooth cutting action while providing each pick with the maximum cutting power to penetrate the rock.
The ER 1500 uses large spur gears driven by high-torque hydraulic motors. The robust gear wheels allow the drum cutter to be used in the most difficult conditions. A central fixing system allows the drum cutter to rotate 360 degrees without having to be disconnected from the excavator. With low-vibration and quiet operation, the ER 1500 can also work in sensitive areas.
The integrated dust suppression system reduces dust directly in the cutting area, helping contractors to comply with the Occupational Safety and Health Administration (OSHA) final silica rule that became enforceable on Sept. 23, 2017.
In contrast to dust suppression systems with water spray cannons, the ER 1500 solution positions water jets as close as possible to the working area, ensuring that the spray reaches the dust-producing area while making it easy for the excavator operator to control it.