SEALING TECHNOLOGY FOR DRINKING WATER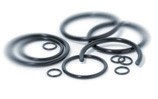 Trelleborg Sealing Solutions has developed an O-ring material for drinking water applications that is both effective and long lasting. In tests, Trelleborg's engineers simulated likely conditions within water systems to develop a range of sealing materials and coating technologies, offering the optimum product.

The only economical way of producing O-rings for infrastructure sealing applications is by injection molding. To make O-ring materials suitable for this process, softeners are added to the elastomer. However, these softeners mean that injection molded seals are not effective in the long term when fitted into plastic pipes. Over time, a reaction occurs and softeners tend to migrate from the seal to the pipe. Consequently, the challenge was to develop an elastomer compound that contained minimal softeners yet still allowed economic and efficient injection molding of O-rings. After extensive research and testing, two compounds proved to have the desired flow characteristics for moulding with few or no softeners were found. One has limited softener content while the other contains no softeners at all.