WATERPROOF PHOTOMETER IDEAL FOR ON-SITE TESTING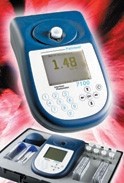 Palintest has introduced a new high performance, fully featured portable photometer for water analysis. The 7100 replaces the company's successful Photometer 5000 and enables advanced instrumental analysis of an extensive range of water tests. It is highly portable, fully waterproof, floats and is extremely rugged in design. It is also very easy to use, provides quick, accurate test results and is ideal for on-site testing in any application.

The photometer is fully integrated with the whole range of Palintest water tests and uses light to measure colour changes in water samples treated with a reagent. It is accurate to ±0.005 at 0.3 absorbency units (au) and resolution is 0.001au, removing the inaccurate results that using a comparator colour chart can give due to variations in operator eyesight or lighting conditions.