SELF-CLEANING TURBO-DISC FILTER CLEANS REUSE WATER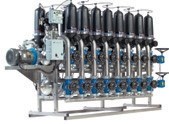 Miller-Leaman, Inc. has released its automatic, self-cleaning Turbo-Disc Filter systems.

Target applications include reuse water for irrigation and industrial use, pre-filtration for membranes, storm water, cooling tower water, well water, surface water, and other environmental applications.

Available in multiple micron sizes, the lightweight three-dimensional polypropylene disc media uses a minimal amount of backwash water (approximately 10 gallons of water per pod). Air-assist models are also available.

The filters come complete with a pump on a stainless steel skid. An onboard controller monitors the differential pressure across the system, triggering an automatic backwash when dirty without interrupting the downstream flow. Filter lid enclosures have a stainless steel quick-release band clamp assembly, enabling easy access to the disc cartridge for maintenance purposes. Turnkey systems can be custom engineered, complete with a multitude of other filtration and water treatment technologies.