NEXT GENERATION LOW VOLTAGE MOTOR MANAGER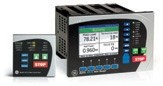 GE Multilin unveiled the MM300, the next generation of low-voltage motor management systems. The MM300 delivers protection, control automation, metering, communications and advanced diagnostics in a rugged, compact design that fits into common NEMA and IEC motor control centres. With its integrated, multiple communications protocols, advanced health diagnostics, and customizable automation and control logic, the MM300 minimizes the number of costly auxiliary devices and maximizes process availability.

The MM300 can simultaneously communicate using Modbus (Serial or Ethernet) and either DeviceNet or Profibus DP protocols. This advancement allows for easy and direct integration into new and existing HMI, DCS and SCADA systems, eliminating the need for additional devices such as protocol converters or gateways.