SUBMERSIBLE DATALOGGING LEVEL TRANSDUCER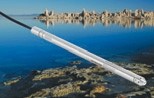 Pressure Systems, manufacturer of KPSI level and pressure transducers, now offers its waterMONITOR datalogging level transducer with an optional ETFE (Ethylene Tetrafluororethylene) jacketed cable for increased durability and corrosion resistance in liquid level monitoring applications. ETFE is a fluoropolymer with excellent tensile strength and chemical resistance. This enables the waterMONITOR to excel in liquid level applications by eliminating concerns of cross-contamination or cable damage. This includes a wide variety of other liquid level applications, such as portable ground and surface water, open channel level measurement, down hole, well, lake, stream and reservoir level monitoring and watershed management.

The waterMONITOR can store up to 600,000 level, temperature, and time stamp measurements and is specifically designed to operate in any wireless environment making it ideal for remote installations.