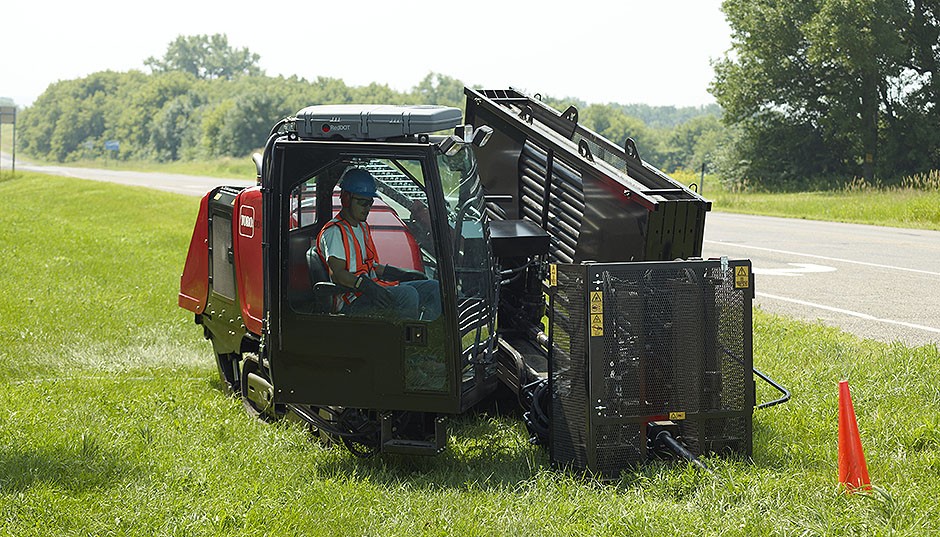 When productivity counts, the new Toro DD4045 horizontal directional drill delivers. Combining 18,140 kg of best-in-class thrust and pullback, along with 6,100 Nm of torque and drilling fluid pump infinitely variable up to 265 L/min, the DD4045 provides the flexibility to perform a variety of different bores. Operators will appreciate the flexibility to use either single or dual joystick controls while drilling, the large multi-function LCD display, and the clear visibility of the tool joint that comes from having open-top vice wrenches. Optional enclosed operator cabin.
Features & Benefits
Productivity focused
The two-speed floating carriage moves at 150 ft/min (46 m/min) to decrease cycle time when adding and removing pipe from the spindle.
Efficient Mud Management
On-board, infinitely variable drilling fluid pump allows the operator to control mud flow for a variety of bores – up to 70 gpm (265 L/min) for larger diameter bores.
Maximum Stability
Dual outriggers with unique reverse design ensure superior ground clearance when loading and unloading, while providing maximum stability during pullback - when it matters most.
Safe and secure
Standard tethered ground drive control improves operator visibility and allows for safe unloading and transport. And, the exit side lock out and Zap Alert™ sytems ensure crew safety at both the entry and exit sides for maximum safety while drilling.
SUPERIOR Traction
Forward-mounted track drive motors with planetary gear reduction provide superior traction in all types of ground conditions.
You're In Control
With the flexibility to choose either single or dual joystick operation while drilling, and the ability to monitor the full range of system functions from the color LCD screen, operators are able to quickly and confidently operate the DD4045.
Smooth operation
Quad rack and pinion carriage design spreads the carriage load evenly for smooth and stable travel. In addition, the carriage gear track is welded, not bolted, to the frame for long-lasting durability.
Maximum Comfort
Optional enclosed operator cab with climate control and excellent visibility keeps the operator comfortable no matter what the weather may bring.
Faster Connections and Breakouts
Heavy-duty vice wrenches are open-top, providing excellent visibility of the tool joint to allow for faster connections and breakouts.
EQUIPPED FOR HARD ROCK CONDItions
Optional air hammer is easily integrated for hard rock drilling applications. Operator can control all hard-rock hammer functions and monitor performance from the integrated LCD display.
Specs
Key Specifications

| | |
| --- | --- |
| Thrust/Pullback Force | 40,000 lbs (9.07 tonnes) |
| Displacement | 272 cu. in. (4.5 L) |
| Gross Power Rating | 160 hp (55 kW) |
| Drill Pipe Outside Diameter | 2.375" (61 mm) |
| Pipe Carrying Capacity | 520' (159 m) (52 Pieces) |