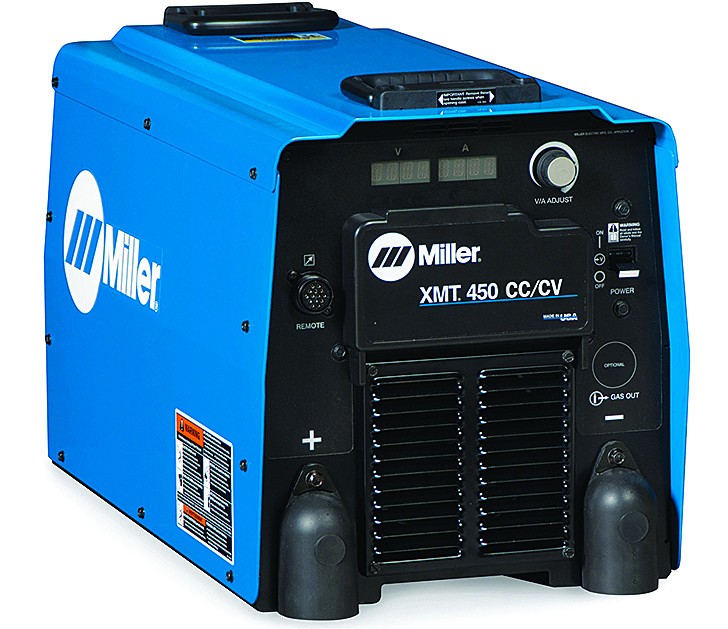 The proven best performer in portable multiprocess applications. Designed for the professional welder, the XMT® 450 Series delivers unbeatable arc performance for DC Stick, Wire and TIG processes.
Features & Benefits
Hot Start™
Adaptive Hot Start™ makes starting Stick electrodes easy without creating and inclusion.
Arc control
Infinite arc control available in the Stick and Wire modes for easier fine tuning of tough-to-weld materials and out-of-position applications.
Wind Tunnel Technology™
Internal air flow that protects electrical components and PC boards from dirt, dust, debris... greatly improving reliability.
Welder friendly control panel
Large, dual digital meters are easy to view and presettable to ease setting weld output. Process selector switch reduces the number of control setup combinations without reducing any features.
Fan-On-Demand™
Operates only when needed reducing noise, power consumption, and the amount of airborne contaminants pulled through the machine.
Low OCV Stick
This simplified version is ideal for Construction or Fabrication applications in which the 14 pin receptacle is not needed for remote control or 14 pin feeders. This is designed for DC Stick, TIG and Wire with a Voltage Sensing Wire Feeder.