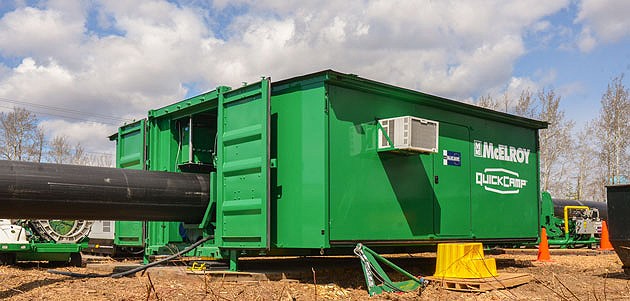 The McElroy QuickCamp™ System is a lighted, insulated and climate-controlled enclosure that allows operators to fuse pipe day or night under all weather conditions. The QuickCamp System includes the QuickCamp Shelter, which houses an 824 or 1236 fusion carriage inside, along with a MegaMc® PolyHorse® and MegaMc® Rollers for greater productivity.
Features & Benefits
Shelter
Shelter folds into standard ISO, 20' cargo container for shipping. Folded shelter contains fusion machine carriage. Ample space for an office, breakroom or storage of extra gear. Electrical outlets to power personal equipment.
Carriage
Available in two sizes: for pipe from 8" IPS to 24" OD or 12" IPS to 36" OD. Carriage can be easily removed for in-ditch and stub end fusions. DataLogger® compatible. Adjustable by 18" to allow proper face-off when pulling pipe through the shelter.
MEGAMC® POLYHORSE®
One operator can load, align and fuse pipe via remote from inside shelter. No double handling of pipe, pipe moves from delivery truck to racks. Holds a full delivery truckload of pipe 26 inches in diameter and larger.
MEGAMC® ROLLERS
Minimizes drag on the pipe. Keeps pipe clean and off the ground. Sealed ball-bearing construction. Won't tip over. Minimizes pipe damage. Easily lifted with chain, straps or forks.
(2) PIPE SUPPORT STANDS
Adjustable pipe stand to properly support, position and align pipe.