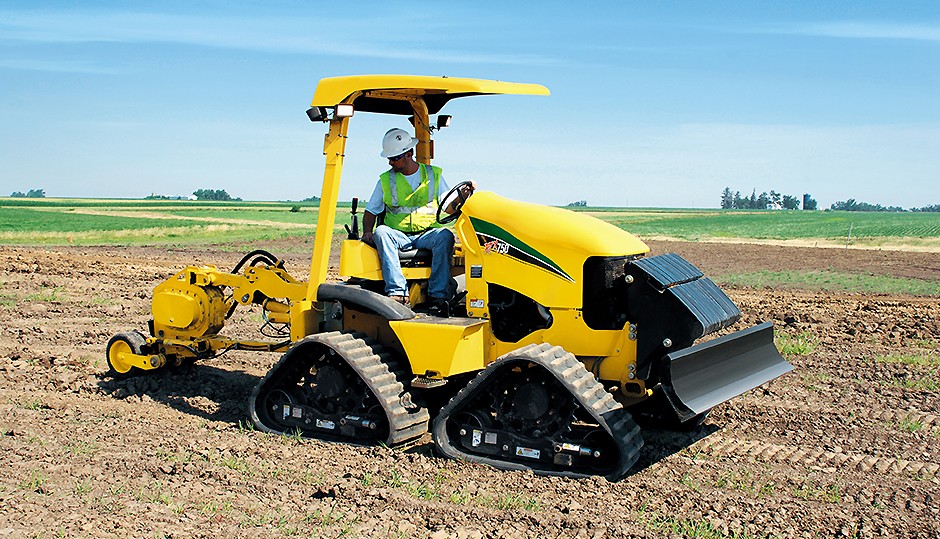 The RTX750 is a compact machine, and is as productive as many larger units on a wide variety of jobs, making it ideal for work in tighter spaces. Rubber tires can be interchanged with the innovative quad-track system, allowing you to choose the optimal configuration for your jobsite needs.
Features & Benefits
MAKE SENSE OF YOUR TRENCH
When difficult conditions are encountered while trenching causing a sudden drop in engine speed, the TrenchSense™ feature automatically pauses the forward motion of the tractor to prevent engine shutdown and recalibration of the machine controls.
KNOWLEDGE ON DISPLAY
An integrated system display toggles through machine diagnostics, including engine rpm, fuel, battery voltage, engine water temperature and engine hours.
QUAD TRACK SYSTEM
The quad track system offers improved flotation, reduced surface damage, increased tractive effort and greater stability. Four-wheel steer and crab steering are functional with both quad track and tire options.
IN CONTROL
Common controls across the entire RTX lineup help operators become more efficient and productive.