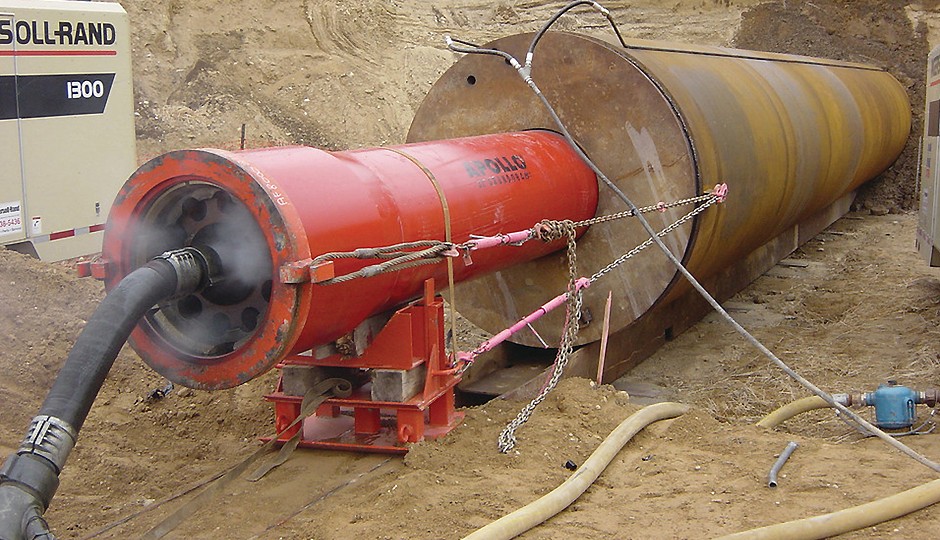 Whatever direction your work takes you, Grundoram can handle it . . . from conventional horizontal pipe ramming to vertical pile driving. The Grundoram pneumatic ramming tool is used for the trenchless installation of steel pipe through a wide variety of soil types, without any rise or fall in the ground's surface. Some casing installation methods are impaired or even rendered inoperable by rock or boulder filled soils. During the pipe ramming process however, boulders and rocks as large as the casing itself are "swallowed up" as the casing moves through.
Features & Benefits
Sizes
Grundoram models are available from 5 inches to 32 inches in diameter, for casing installations ranging from 4 inches to 80 inches in diameter. Larger installations up to 144 inches in diameter have been successful accomplished.
Piston
The piston is heat treated for optimal strength and durability. This process also provides increased corrosion resistance.
Casing
The Grundoram's casing is manufactured from the highest quality steel alloys. The one-piece casing is made from a solid block of steel alloy for unmatched durability and reliability.
Control Stud
The Grundoram's control stud is designed for strength and performance. It also allows the user to easily REVERSE the Grundoram.