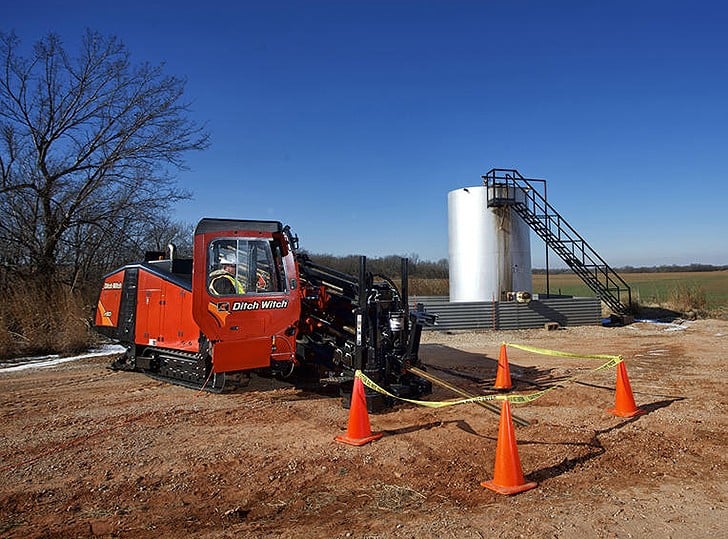 With the new JT60 horizontal directional drill, you'll recognize many of the features you've grown to appreciate: the proven, intuitive electronics and the rugged and reliable undercarriage, to name two. And in no time you'll appreciate the JT60's more powerful rotational torque—an increase of 4,000 ft•lb over its predecessor the JT4020—and 60,000 lb (267 kN) of thrust and pullback. It's the more powerful combination you needed—the combination you asked for—to work more efficiently with less downtime.
Features & Benefits
Thrust drive
Double rack-and-pinion thrust drive is field-proven and designed to push/pull through the long, tough bores.
Pipeloading system
Proven, industry-leading pipeloading system is simple, easy to use and designed to increase speed with automation, saving you time, money and effort.
OPERATOR STATION
Operator's station features intuitive joystick that controls all drilling functions, ergonomic seat, color LCD engine display, and an excellent view of all drill functions.
Fluid pump
Onboard, enclosed 150-gpm (560-l/min) fluid pump for productive drilling at greater distances; flow rate can be operated simultaneously with thrust/pullback and rotation.
Cab
Fully enclosed, climate-controlled cab features instrument panel gauges positioned for visibility, conveniently placed controls and an excellent view of the tool joint.
Structure
Dual-pivot drill frame allows steep entry angles without raising the tracks off the ground—no need to constantly readjust the machine even when the terrain is muddy or steep; enhances operator comfort because operator's station stays level.
SaverLok™ System
SaverLok™ System provides the tightest connection and best protection against wear and tear on the drill pipe and drive system; easy to install and replace, requiring no special tools.
Torque
60,000 lb (267 kN) thrust and pullback and 9,000 ft•lb (12,240 N•m) rotational torque—the powerful combination you need for outstanding productivity on big installation jobs.
GPS
GPS is a standard feature of the JT60, allowing for online location and utilization tracking of assets, along with machine service, hour and location alerts.
Specs
Key Specifications

| | |
| --- | --- |
| Thrust force | 60,000 lb 267 kN |
| Pullback force | 60,000 lb 267 kN |
| Bore diameter | 5 in 127 mm |
| Manufacturer's gross power rating | 200 hp 149 kW |
| Diameter of drill pipe | 3.06 in 78 mm |
| Weight of drill pipe, lined | 186.5 lb 85 kg |