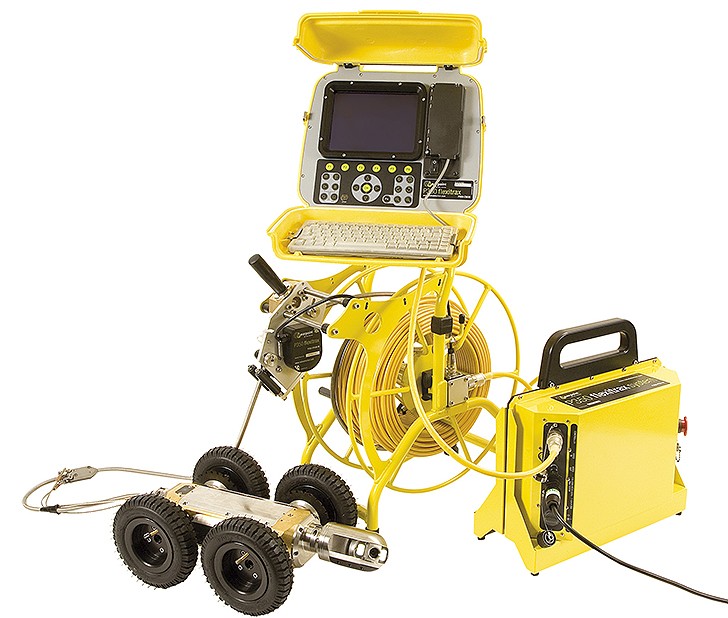 An advanced and highly modular portable crawler camera system for the pipeline inspection professional.
Features & Benefits
Drums
Tailor the system to meet your requirements. Choose between a manual cable drum or an advanced, compact, self-contained powered drum with up to 1000' (305m) of cable.
Cameras
Choose from three interchangeable cameras and two powerful, compact, crawlers that are designed to withstand the most challenging sub-surface conditions.
For any pipe
A wide choice of different wheels, elevators and tires optimizes the downhole equipment to suit the pipe you are surveying. With small wheels fitted the P354 crawler is compact enough to deploy into 4" (100mm) pipes and the P356 into 6" (150mm) pipes.
Fully integrated pushrod connectivity
P340 flexiprobe pushrod reels and cameras can be connected directly to the flexitrax system, allowing you to switch from crawler to pushrod operation at the touch of a button on the P350 command module.
P350+ command module
The P350+ command module, with built-in Li-Ion batteries for pushrod systems, can be mounted directly on top of the flexiprobe pushrod reel – easy to transport and no need to carry a separate mains lead.
Outstanding picture quality
The P350 flexitrax system offers a choice of high-resolution cameras (Forward View, Pan & Tilt or Pan & Tilt with 10x Optical Zoom; each with ultra-bright, white LED lighting for use across different pipe materials.
Easy to transport
The P350 flexitrax system is small enough to fit in the trunk of your car. The system can be van or truck mounted and wheeled on-site using the ergonomic barrow design, allowing you to reach conduits beyond the range of your vehicle.
Durable
The tough, light-weight command module, drum and pushrod reels provide a durable buffer between the elements and your survey data, with a weatherproof (IP53) protection rating.
On-site reporting and easy data transfer
The P350 command module offers a customizable built-in reporting system, capable of creating and exporting detailed MSCC5 compliant drain or inspection chamber survey reports.
FlexiSight Manager
Use FlexiSight Manager to import and manage all your surveys' digital data on a PC or laptop. Data can be retrieved easily using the USB 2.0 connection or by plugging directly into a spare USB port.
SERVICEABILITY
The P350 flexitrax system is designed and built for continuous operation and easy maintenance. Re-termination kits are available, making it easy and affordable to replace or repair damaged cables.